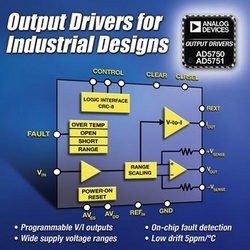 NORWOOD, Mass. (PRWEB) May 12, 2008
Designed to meet the growing demand for highly configurable industrial automation controllers, the new output drivers offer extensive diagnostic functionality such as fault detection and enhanced sensing capabilities that make system startup and troubleshooting easier. Integrating user-programmable current- and voltage-output capabilities, the AD5750 and AD5751 output drivers are ideally suited for programmable logic controllers, distributed control, and high-voltage analog I/O systems.
"Analog Devices' output drivers provide a complete solution for single- and multi-channel analog I/O systems, meeting the growing demand for feature-rich, highly reliable process control equipment," said Mike Britchfield, product line director, precision signal processing, Analog Devices. "These devices offer industrial designers a high-performance system that provides best-in-class drift and stability specifications, helping to increase plant efficiency and lower maintenance costs. Plus, the advanced diagnostics make troubleshooting quick and easy."
About the AD5750 and AD5751 Output Drivers
The single-channel AD5750 and AD5751 are complete analog output drivers for industrial and process control applications and eliminate the need for additional external components such as shunt resistors, range selection, and fault detection circuitry. The devices handle virtually all standard analog output signaling requirements with selectable hardware or software programmability. The high performance and accuracy of the devices satisfy high-end system requirements of 0.1 percent TUE, 5-ppm/degrees C output drift, and 0.01 percent linearity, eliminating the need for designers to calibrate their systems at multiple temperatures and supplies to satisfy end system accuracy and stability specifications. Analog outputs can drive resistive loads up to 1.5 kohms, capacitive loads up to 1 F, and inductive loads up to 0.1 henry.
The AD5750, which operates from dual