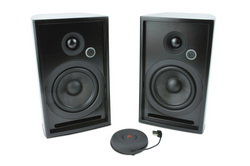 Portland, OR (PRWEB) September 23, 2010
Aperion Audio, a direct-to-consumer maker of award-winning home theater speaker systems, ushers in the Aperion Zona Wireless Surround Speaker System at CEDIA Expo 2010. Aperions Zona brings reliable audiophile-grade surround sound to speaker locations where running wires is unsightly, difficult or impossible. The Aperion Zona Wireless Surround Speaker System overcomes these challenges using proven digital wireless technology that connects automatically when turned on. Home theater enthusiasts and custom installers can simply place the speakers where they want, plug them into a power outlet and instantly play high-fidelity sound.
Although surround sound for home theaters debuted years ago, homeowners often leave the surround or rear speakers unconnected to eliminate wires snaking around the room. But home theater buffs know theyre missing out on the full surround sound experience. About one out of every four people we consult with asks if we make wireless surround speakers, says Jason Hicks, Home Theater Guru at Aperion Audio. Until now, we didnt have a solution. We wouldve happily recommended other existing products, but they typically suffer from poor fidelity, unreliable connections or complexity, and that wouldnt be acceptable for our customers. Im excited that our product team has come up with a self-contained, high-end wireless system that lets home theater enthusiasts add surround sound wherever they wantno matter who manufactured their speaker system.
Aperion designed the Zona speakers to work aesthetically and sonically with all home theater speaker systems. In addition, the Aperion Zona speakers can double as a wireless solution for music stored on personal computers or laptops. Plugging the Aperion Zona transmitter into the PCs USB port automatically sends sound to Zona speakers located up to 150 feet away.
The Aperion Zona Speaker System consists of a compact wireless transmitter and two two-way powered speakers with tuned port and built-in wireless receivers. The transmitter connects to the Surround Pre-Out jacks of an AVR and the speakers link automatically when plugged in. Once connected, the system produces uncompressed 16 bit/48 kHz CD-quality audio.
Pricing, Availability and Warranty:

The Aperion Zona Wireless Surround Speaker System (two speakers, one transmitter) is priced at $ 499. Pre-orders are now being accepted, and the system is expected to ship on October 25, 2010. The One (1)-year limited warranty covers all defects in material and workmanship.
About Aperion Audio:

Based in the beautiful Pacific Northwest, Aperion Audio focuses on ensuring customers enjoy a lifetime of great sound. As a direct-to-consumer maker of award-winning audio products for home theaters, Aperion was first in the industry to offer the Totally Risk-Free 30-Day In-Home Audition. The companys primary storefront, AperionAudio.com, is a fun and informative home audio shopping destination backed by "Home Theater Gurus," who provide generous support both before and after purchase. At Aperion Audio, everyone from newbies to audiophiles can get the help they need to research and select an exceptional home theater speaker system or upgrade for their home audio environment. For more information, visit AperionAudio.com or call 888-880-8992.
CONTACT:

Ed de la Fuente

VP of Marketing and Product Management

Aperion Audio Inc.

18151 SW Boones Ferry Road

Portland, OR 97224

888-880-8992

pr(at)aperionaudio(dot)com

http://www.aperionaudio.com
###