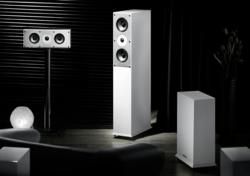 Sydney. NSW (PRWEB) July 09, 2011
Audio Visual Revolution Pty Ltd is proud to announce Wharfedales new Onyx series of hi-fi loud speakers designed to bridge the void between audiophile performance and lifestyle design, Onyx is a fusion of ability and the very coolest modern aesthetics.
Onyx represents a fiery passion – a multi-layered, deep and complex gem. The Onyx loudspeakers have been designed with the same passion and dedication as a fine musical instrument. Every aspect of performance has been honed to enhance the presentation and lucidity of the sound image created. Both realistic and exciting, Onyx is a harmonious balance of craftsmanship and technology.
The range consists of two floor-standing models a stand-mount speaker with a matching dedicated stand, two centre channel models, and a subwoofer.
Engineered as a prestige range, Onyx couples the acoustic refinement and experience of the world

famous Wharfedale Evolution series with an ultra-modern deep gloss aesthetic. Onyx is a definitive lifestyle and forms a focal point, not only within a hi-fi system but also within the overall interior d