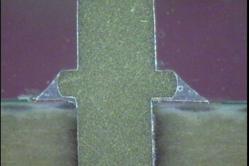 Milford, CT (PRWEB) January 10, 2012
Bead Electronics was granted US patent no. 8,087,281 B2 on January 3rd for its innovative True Grip interconnect pin. Bead's True Grip pin is a hybrid design that combines the strength and reliability of through hole interconnects with the ease of surface mount processing.
Bead's design is the first end-to-end pin produced with a wide flange that can be automatically inserted into printed circuit boards. The wide flange provides a defined seating plane for insertion depth control, a robust shoulder for seating the pin without distorting it, and a large surface area for soldering. The resulting 360 degree solder fillet produces a mechanically strong, low resistance electrical connection that is perfect for high reliability applications.
"Bead Electronics has a long history of innovation," company president Ron Andreoli said. "Our True Grip pin is the latest example of how we apply our technical expertise and unique process capabilities to develop better solutions for the PCB assembly industry."
To watch a video about the True Grip pin, click here.
About Bead Electronics
Bead Electronics manufactures precision continuous reeled, solid-wire and tubular contact pins for the telecom, automotive, connector and lighting industries. Their custom components deliver the performance of machined pins at the price of stamped products, and they can be tooled in a fraction of the time at a modest cost.
The Bead-formed manufacturing process, called swaging, yields superior value because it's a high-speed, virtually scrapless cold-forming process capable of producing small metal parts that are dimensionally consistent and inexpensive. Bead Electronics is ISO 9001:2008 certified and provides 100% vision system Inspection.
For additional information or customer support, please contact:
Bob Halkowicz – Sales Manager

(203) 301-0270 x 15

bhalkowicz(at)beadelectronics(dot)com
Kevin Mayer – International Sales Manager

(203) 301-0270 x 13

kmayer(at)beadelectronics(dot)com
Ron Andreoli – President

(203) 301-0270 x 24

randreoli(at)beadelectronics(dot)com
###





More Electronic Circuits Press Releases