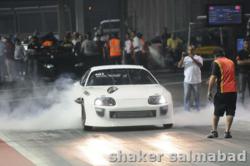 Sakhir, Bahrain (PRWEB) November 23, 2011
Ebrahim M Kanoo, 35 of Manama, Kingdom of Bahrain drove his EKKanoo Racing Outlaw 6 Cylinder Toyota Supra to a World Elapsed time record of 7.333 Seconds and a top speed of 314.85 kilometers per hour at the Bahrain Drag Racing Club Round 2 Event sanctioned by the National Hot Rod Association, on November 17,18. The event was held at the Bahrain International Circuit known as the "Home of Formula 1 in the Middle East" but could now aptly be dubbed "Home of the Quickest and Fastest Supra in the World"
Kanoo began his string of record setting performances during qualifications for the race when he posted a then record breaking elapsed time of 7.591 seconds which reset the previous record held by a team in the USA at 7.596 seconds. That run put Kanoo solidly on the grid just one spot behind the pole position in his category. Elimination round 1 saw the performance take a quantum leap as Kanoo and his team of engineers posted an amazing 7.429 second elapsed time at 307 kph while defeating their opponent and sending the EKKanoo team into the final elimination round with a chance for top spot on the Podium.
Said Kanoo, "I was very surprised when we made that run because it was so much faster than the previous record. My team knew that the performance potential existed in the car they just had to find the setup that would allow the car to maintain grip so we could put the power down all the way. Performance leaps like this are not common in drag racing, I am very excited about this record."
What makes Kanoo's record all the more amazing is that his Toyota Supra maintains many components from its heritage. The Engine, although assembled by Titan Motorsports of the USA, features a factory displacement of 3.0 Litres, burns racing grade Petrol and utilizes the factory cylinder block, crankshaft and cylinder head. The drive train has been re-engineered to harness the power that the Turbocharged and Nitrous Oxide injected engine produces using a racing automatic gearbox. The power is then transmitted to the rear tires through a factory Supra Independent Rear Suspension system which transfers the power required to accelerate the nearly 3000 pound Supra to almost 200 miles per hour in just 7.5 Seconds. Finally the engine management duties were converted to racing spec using a MoTeC Electronic Control Unit and Dash Logger which provide vital feedback from more than 100 channels of data to team engineers, Haider Koohzad, 30, of Manama and Shane Tecklenburg, 37, of the USA.
During the Final Elimination round, Kanoo was set to take on teammate Gary White, 44 of the United States driving Kanoo's newest race vehicle which is also a Supra yet built using only racing components in the drive train and suspension systems. When the starting lights flashed green, White streaked off for victory while Kanoo sat idly and watched his new creation win in its debut. Once White had completed his run and was safely off the track, Kanoo blasted into the record books with an amazing 7.333 elapsed time at 314.85 kph making his both the Quickest and Fastest Supra of its type in the World.
"I saw Shane intently studying the data from the 7.42 run and he was feverishly making tuning changes to the car after that pass," said Kanoo. "That always makes me feel excited because I know it means he has found some performance. When I asked him what he thought would be the performance of the car for that run he just smiled at me and said that the record would not stand. This has been a dream of mine to bring a record like this home to Bahrain. I have worked very hard with my team over the past 5 years and now to see it all happen at once, my new car is here and won in its first event and my existing car now the World Record holder, I am very proud to bring something positive like this to the people of Bahrain and bring the record home to the country I love so much."
###







Find More Electronic Circuits Press Releases