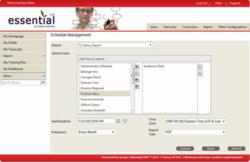 Tampa, FL (PRWEB) May 23, 2012
Six months after adding Izenda Reports as a feature of eLogic Learnings eSSential Learning Management System (LMS), the results are in. The greater functionality of eSSential combined with incorporating Izenda Reports is a success with eLogic Learnings LMS users and administrators. Izenda is also a hit with eLogic Learning because of Izendas superior customer support.
The success of eSSential, eLogic Learnings LMS, and the expanding LMS marketplace, including global deployments, increased the need for a reporting tool that addressed industry demands as well as the requirements of eLogic Learnings LMS clients. As part of the architecture of the latest version of eSSential V9, eLogic Learning identified custom reporting, automated or scheduled reporting, and ease of ad hoc reporting as critical features for its clients and the industry. Until now, lack of reporting functionality has been a systemic problem with Learning Management Systems, both for users and administrators.
eLogic Learning required a reporting tool that met the demands for true ad-hoc and user configuration. eLogic Learning did a comprehensive evaluation of the reporting tools of several leading companies. eLogic Learning considered these key factors: