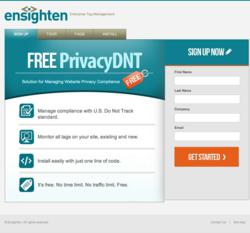 CUPERTINO, CA (PRWEB) May 15, 2012
Ensighten, innovator of high-performance tag management systems (TMS) for top brands and marketers, is announcing new consumer privacy Web technology to help publishers, marketers, and etailers comply with emerging online privacy standards in the United States. By adding a single line of code to their websites, Ensighten PrivacyDNT enables publishers to recognize the Do Not Track preferences of consumers who visit their websites and control their sites third-party tags accordingly. Ensighten PrivacyDNT leverages tag classification data provided by PrivacyChoice, enabling website owners to make informed decisions about complying with emerging DNT standards.
This Website Privacy Standards infographic shows how tags and cookies power the e-commerce and online advertising industries.
Ensighten PrivacyDNT setup takes minutes, and the service is entirely free with no limitation on traffic volume or the number of Web domains supported. Ensighten PrivacyDNT is based on the same robust technology platform that powers Ensighten Privacy, Ensightens enterprise-class privacy solution.
Des Cahill, VP of marketing at Ensighten, sees mounting concern among Web publishers concerning the EU Privacy Directive and the emerging U.S. DNT standard. Many leading publishers and e-tailers have already adopted our Ensighten Privacy enterprise-class e-privacy solution, he said. We decided it was the right time to bring the tremendous advantages of Ensightens online privacy platform to a much wider audience, with a freely available and easy-to-install Web-based solution. Ensighten PrivacyDNT enables publishers to easily identify, categorize and monitor the tags on their site and be assured of conformance with developing Do Not Track standards.
Ad industry leaders have agreed to recognize Do Not Track by the end of this year, which makes DNT compliance a privacy priority for publishers, said Jim Brock, PrivacyChoice CEO. Ensighten PrivacyDNT is an easy and free way to honor user choice, while preserving the responsible use of customer data.
Undefined and uncategorized website tags put US publishers and etailers at risk
As the movement to prevent consumers online travels gathers political stream, publishers are faced with the obligation to honor consumers online privacy preferences. However, many are currently unable to control the data collection practices of third-party tags such as ad networks, re-targeters and social sharing buttons. The problem is widespread: The Wall Street Journal conducted a study that found tracking technology (or tags) are embedded in 80 percent of the top 1,000 websites. The study also noted that the top 50 websites average 64 different tags, and that these sites, and other less well-known sites, installed 3,180 cookies and other tracking files on a consumers computer.
Cookies, and the tags that drop them and later access them, enable a range of e-commerce features, including shopping cart functionality, the presentation of personalized information and ads to a consumer based on which sites they have visited, and website analytics. Cookies and tags are the foundation of todays online advertising industry, but initiatives like Do Not Track and the upcoming UK Cookie Law require publishers to control third-party tag data collection.
Free Ensighten PrivacyDNT gives publishers complete control over third-party tags on their websites
Ensighten PrivacyDNT provides a comprehensive solution to a publishers privacy compliance needs and is incredibly easy to install.

Simple installation just one line of JavaScript per Web page

Covers all tags on site – no need to modify any tags or move into a TMS

Recognizes and lists all tags on website

Privacy categorization of tags based on data from consumer e-privacy leader PrivacyChoice

Simple to configure and maintain intuitive dashboard for modifying DNT tag blocking.

Automated new tag detection, auto-classification and email alerts

Detection of consumers DNT preferences and corresponding blocking or allowance of tag firing

Ongoing updates to web service to stay up to date with emerging DNT standard
PrivacyDNT is currently in beta release and will be made generally available in June 2012.
ABOUT ENSIGHTEN

Ensightens enterprise tag management and privacy solutions enable the worlds largest enterprises to manage their websites more effectively. Ensightens industry-leading tag management platform replaces hundreds of lines of code per Web page with a single line of code, and empowers marketers with an easy-to-use web interface that lets them quickly add, remove or manage any third-party service such as Web analytics tags or advertising pixels. Ensightens global Tag Delivery Network serves over 150 billion tags annually to more than 13,000 Web domains, accelerating page load times and handling more than $ 16 billion in ecommerce for top brands that include A&E Networks, LendingTree, Lenovo, Microsoft Stores, Monster, Sony, and Subaru. Visit us on the Web at http://www.ensighten.com, and follow Ensighten on facebook.com/ensighten and Twitter @ensighten.