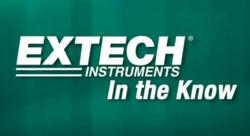 Waltham, MA (Vocus/PRWEB) January 25, 2011
The term True RMS is often used to describe multimeters and clamp-on meters. Extech Instruments takes closer look at why True RMS is important for many jobs. With Extech's new EX500 series, professionals can build on the versatility of their True RMS meter by taking advantage of added features: the EX570 offers a built-in infrared thermometer and the EX540 features an industry-first wireless datalogging multimeter.
Generally speaking, a clean alternating current supply comes in a nice linear sine waveform. The non-True RMS meter, also called an averaging meter is designed to work properly when the waveform is a clean sine wave. It uses a mathematical averaging formula to accurately calculate current.
When components in the circuit change the shape of the sine wave, an averaging meter will be inaccurate. Non-linear loads draw current and distort the sine wave into a variety of non-sinusoidal waves including a square wave, triangle wave, sawtooth wave, clipped wave, rectified wave and others.
In these cases, the averaging multimeter can be under by as much as 35-40%, or over by as much as 8-10%, depending on the waveform.

Non-linear loads are everywhere. Think of any systemelectrical, lighting, HVAC, mechanical, or industrial. Nowadays, more and more of these have electronically programmable components, with microprocessors, or solid-state components controlling their systems and subsystems in everything from manufacturing facilities to home HVAC systems.
True-RMS multimeters or clamp meters do not rely on the averaging method to calculate AC current or voltage. Instead, their processors use the root mean square or RMS formula to accurately accommodate distorted waveforms when calculating readings. If a professional works in todays many solid-state-intensive environments, using a True-RMS meter is a no-brainer.
For routinely working in any of these environments, a technician should consider getting a True RMS meter instead of an averaging model:
Solid state electronics

Variable frequency drives (VFD) or variable speed drives (VSD)

Fan controls

MCC /Motor controls

High efficiency HVAC systems

Controller boards

Low-voltage systems

Phase-control dimmers

Power supplies

Industrial motors

Pumps

Elevators

Conveyors

Machine tool drives

High-tech/IT-intensive environments

And any scenario where a linear waveform will be distorted by intermediary components.
In the past, True RMS multimeters or clamp-on meters were priced significantly higher than averaging models. In recent years, the price gap has narrowed considerably making True RMS meters more affordable than ever. More accurate readings and fewer diagnostic errors will quickly deliver a return on investment.
Extech Instruments offers the widest range of True RMS meters on the market, with models designed for every application and budget. Now, with the Extech EX500 series, professionals can expand the versatility of their True RMS meter choices with a built-in infrared thermometer (EX570) or an industry exclusive wireless datalogging multimeter (EX540). Visit http://www.extech.com to learn more.
###
Low cost PCB on PCBWay - only $5 for 10 PCBs and FREE first order for new members
PCB Assembly service starts from $88 with Free shipping all around world + Free stencil
PCBWay 2nd PCB Design Contest