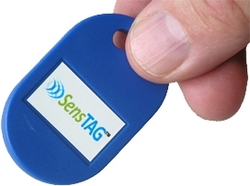 CHEYENNE, Wy (PRWEB) June 8, 2010
ProximaRF Technology Corp. (Proxima RF) and Phase IV Engineering, Inc. have partnered to offer HF RFID enabled sensing products based on the powerful, new Melexis MLX90129 sensor IC that allows new sensing applications that previously would have been left on the drawing board. Proxima RF designs 13.56MHz High Frequency (HF) readers and holds a patent on integrating readers in handheld devices while Phase IV Engineering provides complete wireless and embedded sensing solutions. Proxima RF will be demonstrating HF RFID sensor tags at Sensors Expo in Chicago on June 8-9th in Booth 307.
Terry Rachwalski, VP Business Development for Proxima RF says, Data loggers and passive sensing in high moisture or sensitive applications like cold chain, pharmaceuticals and construction require contactless data transfer. The fit between our experience with 13.56MHz RFID readers and Phase IVs competency in sensor design, calibration, packaging and manufacture allows us to offer new solutions to old problems. Proxima RF will offer a product line of passive battery-less sensors, data-loggers and HF RFID enabled probes and a variety of readers in specific market verticals. Rachwalski went on to say that they would concentrate on combining elements such as temperature, humidity, light and shock.
Phase IV Engineering COO, Scott Dalgleish, COO responded, Proxima RF will be leveraging our expertise in embedded and wireless sensing and apply it to markets where using HF RFID as the wireless element is the optimal solution. Proxima RF will offer the Phase IV SensTag brand sensor product along with a variety of reader and software options. Proxima RF offers demonstration kits to authorized distributors and system integrators. Phase IV also offers a full range of superior wireless sensing devices and services in industrial, military and process applications where their ability to create customized solutions is unparalleled.
The HF RFID enabled sensing alliance was conceived by Gilles Cerede, RFID Product Marketing Manager at Melexis, Our sensor IC needed a reader and sensors compatible with our command set. Phase IV and Proxima RF together, create a complete solution package for specific verticals and custom applications.
HF RFID works best with high water content items like foodstuffs, such as cold chain where the high water content demands HF RFID or healthcare where other RFID frequencies are less desirable. The RFID reader and sensing elements must both use a precise command set to communicate and decode sensor data with the Melexis IC.
The unique and powerful passive sensing features of the MLX90129 include an internal temperature sensor, two external sensor ports with accurate differential inputs to accommodate a wide range of sensor types, a high degree of configurability to accommodate precision calibration, and a standard ISO15693 high frequency RFID interface.
In battery-powered data logging mode, the MLX90129 has the unique features of a small size, low thermal mass, a sealed sensor package, wireless configuration and data transfer, expandable memory using the SPI interface, and the ability to tether two external sensors of any type including extremely fast response temperature probes.
About ProximaRF
Proxima RF designs, develops and manufactures High-Frequency RFID readers, and reader modules. Designed to read ISO15693 tags, CryptoRF ISO 14443B protocols plus HF RFID enabled Melexis 90129 sensor tags, Proxima RF readers are enabling the next generation of near-field and proximity solutions. Proxima RF enables integrators to create user-friendly proximity solutions with ready-to-ship readers, supporting software, OEM designs and sensor tag modules for cold chain, pharma and healthcare applications.
About Phase IV Engineering: Phase IV Engineering is a veteran-owned, private company based in Boulder, Colorado. Their innovative technology has made them leaders in RF enabled sensing and monitoring solutions since 1992, providing unique and challenging application solutions in the commercial aerospace, automotive, industrial, medical and agricultural industries, as well as the U.S. Department of Defense. For more information, visit http://www.phaseivengr.com
About Melexis: Melexis Microelectronic Integrated Systems N.V. (Euronext Brussels: MELE) designs, develops, tests and markets advanced integrated semiconductor devices. The company sells its products to a wide customer base of automotive system manufacturers in Europe, North America and Asia. Melexis products include microcontrollers, Hall (magnetic), optical sensor ICs, interface ICs for pressure and acceleration sensors, micro-machined silicon pressure, acceleration and gyroscope sensors, application specific integrated circuits (ASICs), wireless communication RF and RFID components, in each case principally for automotive applications. Further information about Melexis can be found at http://www.melexis.com.
ProximaRF.com, and Proxima RF are trademarks of ProximaRF Technology Corporation in the United States, Canada and/or other countries. The names of actual companies and products mentioned herein may be the trademarks of their respective owners.
Contact Information:
For further information, please contact

Terry Rachwalski, VP Business Development

E-mail: info(at)proximarf(dot)com

Website: http://www.proximarf.com
Rich Pollack, CEO

Phase IV Engineering, Inc

E-mail: rpollack(at)phaseivengr(dot)com

Website: http://www.phaseivengr.com
###