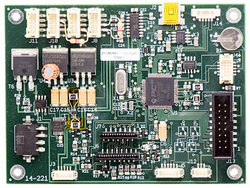 South Windsor, CT (Vocus) August 4, 2010
As a premier provider of quality ruggedized, specialized and customized flat panel display products, optical enhancements and software services, General Digital Corporation is revolutionizing the way customers manage the global distribution of LCD monitors with their recent development project of the Tracker 4See, the industrys first IP-addressable LCD microcontroller.
The IP-addressable LCD microcontroller is equipped with a full suite of hardware and software components allowing for remote diagnostics and maintenance of LCD monitors. The Tracker 4See has been carefully engineered to provide a technicians access to Calibration, Configuration, Control and Correction of an LCD monitor, all accessible via a Web-driven interface. General Digitals trained technicians can monitor a flat panel display, make adjustments and diagnose any problem areas, so long as the Tracker 4See is connected to the Internet.
We are transforming and modernizing the traditional means of access control, says Tenell Rhodes, Senior Vice President of General Digital. By utilizing such a highly engineered technology, a customer can establish direct communication with an appointed administrator, allowing them to update or refresh video controller firmware from virtually anywhere in the field.
The microcontroller has a multitude of key features, some of which include monitoring of hardware performance in real time; observing temperatures, fan speed, brightness, and output current and voltage as well as the ability to control the cooling fan speed; record individual failures and failure history; and allowing pass-through RS-232 commands to the video controller, locally or remotely. The Tracker 4see has the capability for allowing an immediate service response and ultimately reducing the cost of shipping and repair charges.
Although General Digital continues to further develop the Tracker 4See suite, it is available for purchase immediately.
To download a PDF presentation and monitor additional advancements on the Tracker 4See, visit http://www.generaldigital.com/blog/.
General Digital delivers ruggedized, specialized and custom flat panel products, optical enhancements and software solutions that are built to last for many years, while offering the greatest flexibility necessary to keep pace in todays rapidly changing market. The company continues to serve the marketplace with advanced design and engineering capabilities as evidenced in their diverse line of LCD monitors and associated hardware products, optical enhancements, contract manufacturing, and software engineering services.
For more information call 800.952.2535 or visit http://www.GeneralDigital.com.
###







More Microcontroller Press Releases