Long checkout lines at the grocery store are one of the biggest complaints about the shopping experience. Soon, these lines could disappear when the ubiquitous Universal Product Code (UPC) bar code is replaced by smart labels, also called radio frequency identification (RFID) tags. RFID tags are intelligent bar codes that can talk to a networked system to track every product that you put in your shopping cart.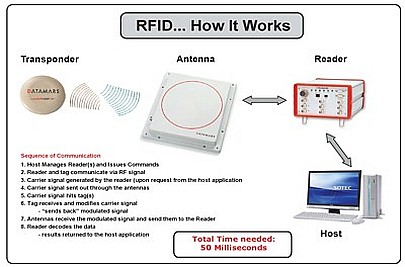 Imagine going to the grocery store, filling up your cart and walking right out the door. No longer will you have to wait as someone rings up each item in your cart one at a time. Instead, these RFID tags will communicate with an electronic reader that will detect every item in the cart and ring each up almost instantly. The reader will be connected to a large network that will send information on your products to the retailer and product manufacturers. Your bank will then be notified and the amount of the bill will be deducted from your account. No lines, no waiting.
RFID tags, a technology once limited to tracking cattle, are tracking consumer products worldwide. Many manufacturers use the tags to track the location of each product they make from the time it's made until it's pulled off the shelf and tossed in a shopping cart.
Outside the realm of retail merchandise, RFID tags are tracking vehicles, airline passengers, Alzheimer's patients and pets. Soon, they may even track your preference for chunky or creamy peanut butter. Some critics say RFID technology is becoming too much a part of our lives — that is, if we're even aware of all the parts of our lives that it affects.
In this article, you'll learn about the types of RFID tags and how these tags can be tracked through the entire supply chain. We'll also look at the noncommercial uses of RFID tags and how the Departments of State and Homeland Security are using them. Lastly, we'll examine what some critics consider an Orwellian application of RFID tags in animals, humans and our society.
Reinventing the Bar Code
Almost everything that you buy from retailers has a UPC bar code printed on it. These bar codes help manufacturers and retailers keep track of inventory. They also give valuable ­information about the quantity of products being bought and, to some extent, the consumers buying them. These codes serve as product fingerprints made of machine-readable parallel bars that store binary code.
Created in the early 1970s to speed up the check out process, bar codes have a few disadvantages:
In order to keep up with inventories, companies must scan each bar code on every box of a particular product.
Going through the checkout line involves the same process of scanning each bar code on each item.
Bar code is a read-only technology, meaning that it cannot send out any information.
RFID tags are an improvement over bar codes because the tags have read and write capabilities. Data stored on RFID tags can be changed, updated and locked. Some stores that have begun using RFID tags have found that the technology offers a better way to track merchandise for stocking and marketing purposes. Through RFID tags, stores can see how quickly the products leave the shelves and which shoppers are buying them.
RFID tags won't entirely replace bar codes in the near future — far too many retail outlets currently use UPC scanners in billions of transactions every year. But as time goes on we'll definitely see more products tagged with RFIDs and an increased focus on seamless wireless transactions like that rosy instant checkout picture painted in the introduction. In fact, the world is already moving toward using RFID technology in payments through special credit cards and smart phones — we'll get into that later.
In addition to retail merchandise, RFID tags have also been added to transportation devices like highway toll passcards and subway passes. Because of their ability to store data so efficiently, RFID tags can tabulate the cost of tolls and fares and deduct the cost electronically from the amount of money that the user places on the card. Rather than waiting to pay a toll at a tollbooth or shelling out coins at a token counter, passengers use RFID chip-embedded passes like debit cards.
But would you entrust your medical history to an RFID tag? How about your home address or your baby's safety? Let's look at two types of RFID tags and how they store and transmit data before we move past grocery store purchase­s to human lives.
For more Detail: How RFID Works