Hardware
Like a portable media center, the Explorer is essentially a handheld computer. It uses a Linux operating system, and it processes and stores interactive presentations using:
It then plays them using a trans-reflective, high resolution touch screen and 3-D stereo headphones. Its most remarkable feature it is that it uses GPS "Fast Fix" technology to choose which items to play based the visitor's location within the site. It can also mark the visitor's location on an on-screen map.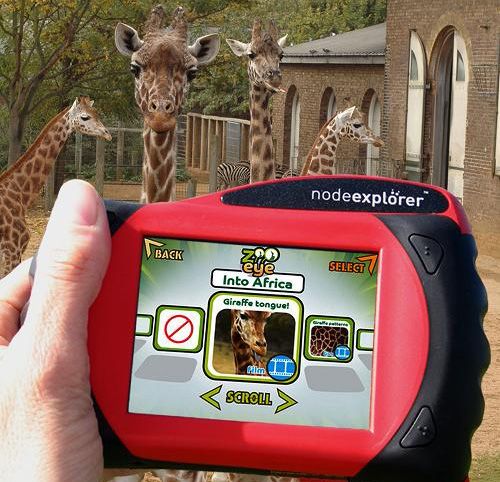 The Explorer unit is just one part of the wireless Node network, which also includes:
Recharging and data collection docks
A central server
Web-enabled computers, which staff members use to access Node software
Software
The Node software package uses three components to manage everything from content creation to unit rental. The applications that manage the Explorer from behind the scenes are the Admin and Editor programs. The HirePoint interface controls Explorer rental.
Each program is responsible for a specific set of instructions and information:
Admin allows staff members to set up their Explorer units and manage their accounts. The Explorers themselves gather data about where visitors go in the site and how they explore the exhibits. Admin creates reports based on the collected data.
Editor manages the actual content of the Explorer presentations. Using Editor, staff can designate the hot spots, or areas that will activate an interactive portion of the presentation.
HirePoint manages unit rental and security. It collects information about the people who rent the units, including a small, passport-style photo.
Staff members use a web browser to access each of the three programs and can make real-time content updates. This means that they can adjust what visitors see based on the season, the time of day or the weather. For example, if it starts to rain, the Explorers can display the location of the nearest shelter. People can also send and receive messages through the unit.
Next, we'll look at how the Explorer affects operations at a cultural site.

For more detail: How the Node Explorer Works
Low cost PCB on PCBWay - only $5 for 10 PCBs and FREE first order for new members
PCB Assembly service starts from $88 with Free shipping all around world + Free stencil
PCBWay 2nd PCB Design Contest