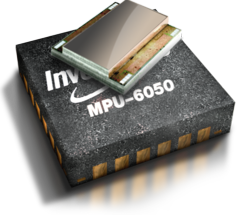 Sunnyvale, Calif. (PRWEB) September 14, 2011
InvenSense, Inc., the leading provider of MotionProcessing solutions for consumer electronics today announced it is shipping in volume the MPU-6050 product to handset and tablet OEMs and ODMs. Announced nearly one year ago as the worlds first integrated six-axis MotionProcessor, the MPU-6050 has raised the industry bar with its advanced integration of 3-axis gyroscopes and 3-axis accelerometers in a 4x4x0.9 mm QFN package the smallest footprint in the market and 20 percent smaller than competing solutions. Integration of both gyroscopes and accelerometers on the same silicon die provides an inherent improvement in alignment of the sensing axes over multi-chip packaging techniques, resulting in higher overall device accuracy and application performance.
The MPU-6050 provides superior performance metrics over competing solutions, such as a 30 KHz drive resonance frequency, which significantly improves headroom above any ambient noise preventing coupling due to environmental sounds and vibrations; an embedded Digital MotionProcessor (DMP) with 9-axis MotionFusion for more efficient motion processing; less than 4 mA current consumption; and 0.005 dps/Hz of gyroscope noise, which is 30 percent lower power consumption and 6X lower gyroscope noise than competing devices respectively. Offloading computational intensive sensor fusion tasks to the embedded DMP allows the application processor to focus all its available bandwidth on processing core application tasks and enables a more cost-effective solution to be deployed. The MPU-6050 also provides a secondary I2C port that allows for integration of 3rd party magnetometers for a complete 9-axis solution. Customers are showing a strong preference for the integrated 6-axis MotionProcessing solution over standalone motion sensors due to the elimination of many technical and logistical challenges including component selection and qualification, factory calibration, production procurement, board space constraints, and meeting application performance requirements.
With a broad acceptance across the mobile ecosystem, the MPU-6050 with accompanying MotionApps software has been adopted by leading Application Processor platforms and mobile operating systems including Googles Android Gingerbread and Honeycomb as well as Microsofts Windows 8. The platform utilizes output from the MotionApps to enable system designers to use the sensor data in their applications without the need to understand detailed motion sensor outputs and develop related motion processing algorithms. MotionApps provides a complete solution including system level test and calibration routines and ready to install applications providing OEMs/ODMs faster time to market.
The MPU-6050 is currently available for volume purchases: Please contact sales(at)invensense(dot)com. For more information visit InvenSense at http://www.invensense.com.
About InvenSense

InvenSense is the leading provider of MotionProcessing solutions for the consumer electronics market. The companys patented and patent pending MotionProcessing technology and Nasiri-Fabrication platform address the emerging needs of many mass-market consumer applications such as smartphones, tablets, gaming devices, image stabilization, and remote controls for Smart TV, that require improved performance, enhanced features, and new and more intuitive motion and gesture-based user-interface solutions. InvenSense is a privately held company with headquarters located in Sunnyvale, California.
###





Related Embedded System Press Releases