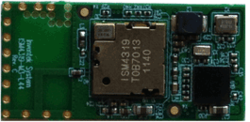 (PRWEB) March 22, 2012
The ISM4319-M3G-L44 is enabled with Broadcom Corporation's (http://www.broadcom.com) Wireless Internet Connectivity for Embedded Devices (WICED) architecture. It supports 802.11b/g/n Wi-Fi connectivity and can be configured using simple commands over the serial port to perform as a client, web server or access point. Simple commands are also used to instruct the module to scan, ping, send, receive, join and leave a network. This significantly reduces the development and integration effort for design engineers to add Wi-Fi connectivity to their products.
The ISM4319-M3G-L44 module hardware includes the Broadcom BCM4319 IEEE 802.11b/g/n Wi-Fi System-on-Chip (SoC) component and STMicroelectronics STM32 F-2 Series 32-bit ARM Cortex M3 microcontroller. This STM32 microcontroller hosts the networking application software including the TCP/IP network stack and Inventeks customized AT Command set firmware.
The ISM4319-M3G-L44 is the newest member of Inventeks eS-WiFi module family and doubles the available microcomputer memory based on the STM32F205RG. It is footprint compatible with the ISM4319-M3-L44 eS-WiFi module which utilizes the STM32F103RE. This foot print compatibility allows customers to easily migrate for applications with larger flash and/or RAM memory requirements. STs large on-chip memory density also allows Inventek the flexibility of implementing additional network features in future firmware upgrades.
"The ISM4319-M3G-L44 is an ideal solution for adding connectivity to any product because of its rich feature set coupled with its easy-to-use command set. Customers have been able to demonstrate connectivity in their systems within hours and to complete integration within days. This has definitely shortened our customers design cycles and enabled them to rapidly add Wi-Fi connectivity to their products." said Dick Bates, Business Manager of Inventek Systems.
"Inventeks eS-WiFi family, based on Broadcoms WICED platform, further simplifies the integration of Wi-Fi connectivity by adding a layer of firmware that controls the wireless functionality through simply AT Commands running on a host processor. Inventeks production-ready eS-WiFi modules offer another way to quickly embed Broadcoms 802.11 connectivity solutions into emerging markets such as connected appliances, smart energy systems and cloud-based health and home management services," said Brian Bedrosian, Broadcoms Product Line Director, Embedded WLAN.
The STM32 Microcontroller provides a very flexible architecture for Inventeks eS-WiFi family of embedded modules and allows for the scalability needed to meet broad market requirements. The key combination of processing power, on-chip memory, peripheral support and cost provided the exact mix of features that enables this eS-WiFi module: said Arnaud Julienne, Director of GC&SA MMS Product Group at STMicroelectronics.
The ISM4319-M3G-L44 eS-WiFi module development kits are available now from inventory for $ 159 and may be ordered from the Inventek Systems Store.
About Inventek:
Inventek Systems is a privately held, USA-based, full-service wireless solutions provider focused on 802.11 WiFi embedded solutions, GPS embedded modules and antennas. A wide spectrum of standard and custom embedded products are offered ranging from low cost system-in-a-package (SIP) products to modular based custom solutions. Inventek provides a unique set of services from consulting to custom design to cost effective high volume manufacturing.
Inventek Systems products are used in a wide range of consumer, industrial, and defense based applications. Inventeks eS-WiFi and Ez-GPS products are enabling customers around the world to add WiFi connectivity and GPS features at a quickening pace with minimal design effort.
###

Related Microcontroller Press Releases