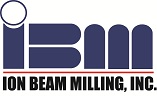 Baltimore, MD (PRWEB) June 08, 2011
Ion Beam Milling, Inc., an ITAR registered leader in Thin Film applications for the Microwave and Photonics Industries today announced the release of its SpaceQ lines of Space Qualified Thin Film Attenuators and Spiral Inductors at the 2011 International Microwave Symposium
During its nearly 30 year history, Ion Beam Milling has been on the cutting edge of Thin Film technologies and services. The company has grown rapidly over the past two years integrating new technologies and processes into its lineup of products and services.
Todays announcement of the SpaceQ line of products is a logical extension of custom work Ion Beam Milling has done over the years. Many of todays customers are looking for off the shelf Space Qualified components from companies that have a strong track record creating them. Ion Beam Millings SpaceQ lines meet or exceed Class K military standards for space components.
According to company president, Jim Barrett, Our customers tell us that they want components that will meet the rigorous Class K standards for space, but some of them dont necessarily have the experience to define a full scale testing regimen to properly qualify those components. Ion Beam Milling makes this process simple with its SpaceQ lines of products. All SpaceQ products are tested and certified by independent labs before they are qualified to be part of the SpaceQ line. Now, Ion Beam Milling can offer our customers off-the-shelf products that are space qualified as well as provide consulting services to customers who have testing and design questions for their own custom product designs.
About Ion Beam Milling, Inc.
Ion Beam Milling, Inc. is a privately held company located in Manchester, NH. Established in 1982, Ion Beam Milling serves the microelectronic, microwave, and photonics communities by creating ultra-high density micro-machined devices. Ion Beam Milling utilizes photolithography and ion beam etching to fabricate electronic and mechanical elements for an array of commercial, industrial, military, photonics, and satellite applications.
Ion Beam Milling is an ISO 9001:2008 certified company and is a registered Manufacturer with the United States Department of State, Office of Defense Trade Controls and Compliance.
Contact Ion Beam Milling by phone at (603) 644-2326, by email at info(at)ionbeammilling(dot)com or visit our website at http://www.ionbeammilling.com
# # #