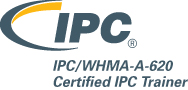 Shelton, CT (PRWEB) July 17, 2011
Lex Products, the leading North American-based manufacturer of power distribution and control products for Entertainment, Military and Industrial markets, has recently announced four Lex employees have successfully completed the training program outlined by the Institute for Interconnecting and Packaging Electronic Circuits (IPC) and The Wiring Harness Manufacturer's Association (WHMA). The IPC/ WHMA certification is widely accepted in the electrical industry as the foundational quality assurance processes that are key to achieving world-class standards in the assembly of electrical products.
IPC/WHMA-A-620 is the electrical industry's first standard for Cable and Wire Harness Fabrication and Installation. The standard describes acceptability criteria for crimped, mechanically secured and soldered interconnections as well as the corresponding lacing or restraining criteria as outlined by the Wire and Cable Harness Industry.
Lex undertook the IPC/WHMA program as an integral part of its ongoing Continuous Improvement Initiatives. To become certified, four Lex employees attended a weeklong training session at the Blackfox training facility in San Jose, CA – one of America's premier IPC certification centers. The Blackfox facility has trained employees of leading companies, such as Raytheon, HP, Nokia, GE, General Dynamics. These four employees became certified IPC trainers, which allows them to certify other Lex employees as Certified IPC Specialists. Lex plans to certify all employees in manufacturing and distribution in both of Lexs facilities; Shelton, CT and Sun Valley, CA. The IPC/ WHMA program was initiated in May and will continue throughout 2011.
Continuous Improvement Manager Jim Lefflbine summarizes, "The IPC/WHMA certification is a key component of Lex's Continuous Improvement strategy. Having a consistently trained workforce ensures that the quality of Lex products continues to be of the highest caliber. The entire Lex leadership team is behind Continuous Improvement initiatives, confident these investments in training will directly benefit Lexs customers. Consistent products and processes are key to achieve Lexs foremost goal: to consistently exceed customer expectations."
Lex Products manufactures superior power distribution and control systems for demanding entertainment, military and industrial markets. The focus of Lex is to help design your portable power systems to deliver electrical power when and where you need it. Their products include Portable Power Distribution Boxes, Cable Assemblies and Cable Protectors. To learn more about the entire Lex Products offering, visit the Company's website at http://www.lexproducts.com.
# # #