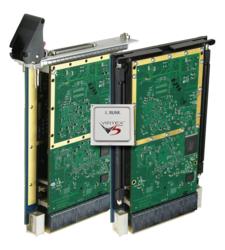 Wixom, MI (PRWEB) May 12, 2011
Acromags new VPX-VLX series of 3U VPX FPGA boards feature a configurable Xilinx Virtex-5 FPGA enhanced with multiple high-speed memory buffers and a high-throughput PCIe interface. Field I/O interfaces to the FPGA via the rear P2 connector and/or with optional front mezzanine plug-in I/O modules. The result is a powerful and flexible signal processor card that is capable of rapidly executing custom instruction sets and algorithms. Typical uses include signal intelligence, image processing, hardware simulation, and communications. The boards start at $ 7100 with several options for FPGA logic capacity and conduction-cooled extended temperature operation.
These VPX Virtex-5 FPGA boards combine very advanced signal processing capabilities with high speed data transfer for real-time computing applications remarked Joseph Primeau, Acromags embedded sales and marketing director.
Three models provide a choice of logic-optimized FPGAs to match the performance requirements. Cards can be ordered with a Xilinx VLX85T, VLX110T, or VLX155T FPGA featuring up to 155,000 logic cells and 128 DSP48E slices. Each model is available in a format designed for use in air-cooled or conduction-cooled systems suitable for -40 to 85