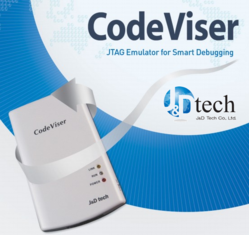 Winchester, Hampshire (PRWEB UK) 13 July 2011
The CodeViser and CVD solution is a combination of debug software and JTAG connection hardware aimed primarily at mobile and consumer electronics devices, but supporting virtually all single and multi-core ARM devices. Supporting the latest CDMA/WCDMA/GSM/GPRS/UMTS processors based on all current ARM cores, the CodeViser solution embraces everything from low level communication peripherals to high level operating system debug capability.
The CodeViser solution is already enjoying massive success in its home markets and with so much innovation globally in mobile connected devices, is expanding its market to other geographic markets where their more specific debug capabilities are in demand.
CodeViser JTAG combines with the CVD debugger to provide full multi-core debug on the complete portfolio of ARM cores, while simultaneously allowing the application specific on-chip devices to be explored.
Supported cores include: ARM7, ARM9, ARM11, Faraday, X-Scale, Cortex-A and Cortex-M
Supported operating systems Include: Linux, WinCE, Windows Mobile, Android, ECOS, REX, L4, AMX, Nucleus, ThreadX, uCOS-II and SMK
Supported Flash devices Include: AMD, Hynix, Intel, Samsung, Renesas, Fujitsu, STMicro, Spansion, Sharp, SST, Toshiba, TI, OKI, MXIC (Macronix) and Micron Technology
To support this wide range of microcontrollers and devices, the CVD debugger uses CSF and CMM script files. The solution is scalable, available in single-target and multi-target variants allowing the tool to be configured to suit the company, team and engineer requirements.
Link to product:
http://www.nohau.co.uk/Suppliers/JandDtech/CodeViser-jtag-for-arm.htm
Nohau has built a successful business in the UK by providing customers with well integrated solutions from requirements specifications to coding and testing for embedded projects development, with top-level post-sale technical support. They have specialised expertise in Real-Time Operating Systems, debug solutions and middleware as well as industrial and commercial protocol stacks.
Kevin Pope, Nohaus General Manager commented: With Nohaus 20+ year background in target debugging, we are proud to add the J&D Techs solution to our already broad portfolio of JTAG solutions. Nohau has the most comprehensive portfolio of ARM JTAG solutions available in the UK and the CodeViser CVD solution is a very strong addition. CodeViser fits with a specific section of our customer base that is looking for the combination of compiler independence, broad microcontroller support and low cost. The ability to use industry standard files to debug and program Flash on the vast array of ARM based devices that now exist is extremely important also.
Link to product:
http://www.nohau.co.uk/Suppliers/JandDtech/CodeViser-jtag-for-arm.htm
About Nohau
Based in Winchester, Hampshire, Nohau UK is a highly specialized, service-orientated organisation capable of developing complete customer solutions. It also provides expert advice and training to support its sales of embedded hardware, tools and software.
Originally part of the Nohau Group, founded in Sweden in 1981, Nohau UK is now an independent, privately owned company which has taken over the groups business interests in the UK and Ireland. The company distributes a wide range of embedded systems related hardware and software, including Real-Time Operating Systems, development tools, protocol stacks for commercial and industrial applications, file systems, protocol analyzers and traffic generators.
Major principals include global players such as Frontline, J&D Tech, Parasoft Embedded, ConnectBlue, Phytec, Keil, HCC-Embedded, Abatron, Quadros Systems and IXXAT.
About J&D Tech
J&D Tech Co., Ltd. is a high tech company developing innovative debugging tools for the embedded system industry. The company focuses on finding new technologies that enable embedded system developers to easily find bugs on their programs and make in-depth products. J&D Tech's Emulator(CodeViser) and Debugger(CVD) support ARM/Cortex, XScale, and FA cores as well as mobile processors such as Qualcomm MSM/QSD series and TI OMAP series. The company has distributors in UK, USA, Germany, India, China, Taiwan, Japan, and Singapore.
###