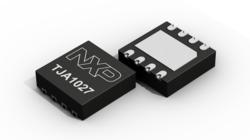 Eindhoven, Netherlands (PRWEB) February 23, 2012
NXP Semiconductors N.V. (NASDAQ: NXPI) the worlds largest supplier of in-vehicle networking (IVN) semiconductors today announced the availability of the TJA1027, a standalone LIN 2.2 transceiver that enables smaller, lighter and more cost-efficient electronic control units (ECUs) in cars. The TJA1027 is ideal for body control and gateway modules, particularly where there are board space constraints due to high node count, and also for typical slave applications such as electrical window lifters or HVAC (heating, ventilation and air conditioning) systems.
The TJA1027 was designed in response to manufacturer demands for a simpler transceiver while still preserving the core functionality required for typical automotive ECU applications. By removing the local wake-up input and battery-related inhibit output features, the TJA1027 enables more cost-effective designs.
The new transceiver is available in two package variants a standard SO8 package, plus a leadless HVSON8 package. Approximately 70-percent smaller and lighter than a conventional SO8 package, the HVSON8 is eco-friendly and saves space. Its compact size and reduced weight enables smaller, more cost-effective ECU modules, helping to reduce CO2 emissions. In addition, the HVSON8 package uses a dark green molding compound that is free of halogen and meets the RoHS (Restriction of Hazardous Substances) standard. The HVSON8 package has identical pin-out as the industry standard LIN transceiver in SO8, which eases the package adoption.
The TJA1027 integrates high protection against ESD pulses (+/- 8kV according to IEC 61000-4-2) on the bus pin. Thus, it further reduces system costs by removing the need for external ESD protection diodes while offering an excellent EMC profile, meeting the latest requirements of car OEMs.
The release of the TJA1027 is another proof point of NXPs technology and market leadership in in-vehicle networking semiconductors. We developed this product in collaboration with major automotive manufacturing customers, responding to their need for a simpler and more cost-effective transceiver that still offers full functionality, said Stephan Rave, product marketing manager, NXP Semiconductors. The TJA1027 is also another example of our support for the HVSON package, which we believe is the next step in the evolution of in-vehicle networking transceivers.
Features