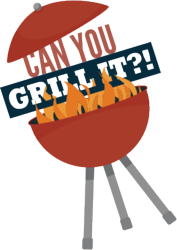 Washington, DC (PRWEB) May 09, 2012
Click here to view video: http://youtu.be/Dp2K6kgDAi4
The grill masters at Pork Barrel BBQ are blazing a trail with the hottest reviews of popular mobile electronics in the new web video series, Can You Grill It? (http://www.CanYouGrillIt.com). Todays You Tube episode features a brand new Motorola Droid RAZR phone getting raked over the coals, literally. This video a must-see for anyone considering purchasing the sleek, impossibly thin Droid RAZR phone.
Watch what happens when the grill masters throw the RAZR phone on their grill at 500 degrees. Can You Grill It addresses the questions curious consumers have about the most popular thinnest cell phone on the market today: Does the KEVLAR back keep flames away? Will the Gorilla Glass crack over charcoal? To see what Droid Does, watch the latest video at http://youtu.be/Dp2K6kgDAi4.
The countrys most innovative barbecue industry moguls, Heath Hall and Brett Thompson, are co-founders of Pork Barrel BBQ, the nations fastest growing barbecue sauce company, and the curious grill masters behind the Can You Grill It? web video series.
Check out the previous Can You Grill It? videos where the grill masters get their hands on the Apple iPad and the Samsung Galaxy Tablet at http://www.CanYouGrillIt.com.
Since summer time means hot temperatures outside and on the grill, we wanted to see whether the Droid RAZR phone could withstand the blazing hot heat, said Hall. People in the market for a new cell phone will want to see what happens should they ever get this sleek, thin device near their backyard barbecue grill.
If you have an idea for a product youd like to see the Can You Grill It team test on Can You Grill It? share your ideas with them by email at [email protected], or by posting your ideas on the Can You Grill It Facebook (http://www.facebook.com/CanYouGrillIt?) or Twitter page (@CanYouGrillIt).
For more information, visit http://www.CanYouGrillIt.com.
About Heath Hall and Brett Thompson

Since founding Pork Barrel BBQ in 2009, Hall and Thompson have become the barbecue industrys most-watched entrepreneurs and continue to earn support from avid barbecue fans with their top-ranked Pork Barrel BBQ Blog and as the number one most followed BBQ company on twitter (http://www.twitter.com/porkbarrelbbq).
Hall and Thompson have expanded their business from creating BBQ sauces and spice rubs in their home kitchens to selling award-winning BBQ products in over 4,000 stores across America including Harris Teeter, Whole Foods, Safeway and Costco. Their inaugural cookbook, the free Pork Barrel BBQ Guide to Tailgating, received praise from food and sports fans across America, and their sauces have won numerous awards and was recently named to the list of Best Sauce in America by Country Living Magazine and one of the 125 Best Foods for Men by Mens Health Magazine.
In 2011, Pork Barrel BBQ debuted a specialty BBQ-flavored peanut with FERIDIES, added Pork Barrel BBQ Mustard BBQ Sauce to their line of sauces, introduced the worlds first barbeque scented fragrance Que, continued to earn top awards on the professional barbecue circuit, and opened the first Pork Barrel BBQ Restaurant in the Del Ray neighborhood of Alexandria, Virginia. In the first quarter of 2012, the company has debuted Pork Barrel BBQ Carolina Vinegar BBQ Sauce, made an appearance on a follow-up segment of ABCs Shark Tank, and now debuts the Can You Grill It YouTube video series.
For more information about Pork Barrel BBQ, visit http://www.porkbarrelbbq.com and read about their latest updates and adventures on Facebook, Twitter (@porkbarrelbbq) and the companys blog.
About Pork Barrel BBQ

Pork Barrel BBQ was founded in December 2008 during the peak of the economic crisis to prove that a company not owned or operated by the federal government could succeed, and that if you had a good idea, it was still possible to grab a piece of the American Dream. Pork Barrel BBQ founders, Heath Hall and Brett Thompson, ran the company out of the basement of their houses, selling their award winning BBQ products one bottle at a time. In less than one year, their Pork Barrel BBQ Sauces and Spice Rub were carried in over 1,000 stores in 40 states.

Throughout their journey, they have stayed true to their mission to unite the nation through the great tradition of BBQ, and bring bipartisan flavor to your next meal. The Pork Barrel BBQ Competition BBQ Team entered its first contest, The Safeway National Capital Barbecue Battle, in June 2009, and walked away with two trophies Second Place in the Nations Best BBQ Sauce Contest and Fourth Place for their pulled pork in the Memphis In May portion of the contest.

Since then, the team has won multiple awards, including the 2011 Perdue National Chicken Championship, the Safeway National Capital Barbecue Battle in 2011, the Chinet Peoples Choice award for best BBQ sauce in 2010 and other notable Memphis in May and Kansas City Barbecue Society BBQ competition accolades as well as having their Pork Barrel BBQ Original BBQ Sauce named Best Sauce in America and one of The 125 Best Foods for Men by Mens Health Magazine in November 2010. For more information, visit http://www.PorkBarrelBBQ.com or follow Pork Barrel BBQ on Facebook and Twitter (@porkbarrelbbq).