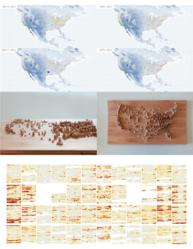 Providence, RI (PRWEB) April 27, 2012
Rhode Island School of Designs Digital + Media Department offers "Visualizing Data: Art + Code", a new summer course devoted to the emerging art form created by the presentation of data through innovative, elegant and artful design solutions. See the course description.
"Visualizing Data: Art + Code", taught by Kyuha "Q" Shim and offered as part of RISDs Summer Studies Art and Design Courses, is a 3-credit course open to any interested student 18 years of age or older. The course, held on the RISD campus in Providence, RI, is a unique opportunity for artists and designers of all backgrounds and mediums to understand code and decrypt data in order to effectively convert information into distinctive visual forms of art and communication.
Without needing to know anything about code prior to taking this course, students learn such digital tools as Arduino, Processing and Pepakura, in order to create works that go beyond standard graphic representation to convey personal expressions. Students examine the work of designers and artists like Ben Fry, Jer Thorp, Catalogtree, LUST, Daniel Shiffman and Ryoji Ikeda, and complete a series of short projects culminating in a final project that technically and aesthetically challenges the boundaries of data visualization.
Instructor Kyuha Q Shims primary focus is facilitating the learning experience for his students. Acknowledging that this is a topic that is usually unfamiliar to typical art and design students, Shim will quickly show that the visualization of data can go way beyond typical charts and graphs. He says, Data is all around us but, because its not visual, its not immediately appealing to most people. Not only is this a great way to learn about data and code, this course will relate them to our everyday experiences in order to make art that is aesthetically appealing. A quick look at Qs website http://www.kyuhashim.com provides a glimpse of the infinite possibilities the artful combination of data and code can present. Interested students may also view the work of students in Qs recent RISD Wintersession course "Form + Code", at http://www.formcode.org.
Visit http://www.risd.edu/summer for the complete course description, along with tuition, credit, dining, housing, and registration information.
About Rhode Island School of Design Summer Programs
RISD Summer Programs are administered by the Rhode Island School of Design Office of Continuing Education. In addition to the Summer Studies Art and Design courses, RISD Summer Programs include Summer Studies Liberal Arts courses, the Summer Institute for Graphic Design Studies (SIGDS), the Textiles Summer Institute, the Pre-College Program, and summer Continuing Education courses and camps for adults, teens and children. Visit risd.edu/summer for more information on all of these programs.