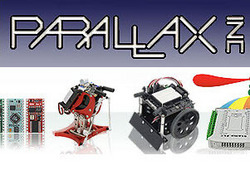 Boisbriand, Quebec (PRWEB) September 17, 2009
RobotShop Distribution inc. announced today that they have entered into a distribution agreement with Parallax, Inc., a designer and manufacturer of high-quality microcontroller development tools and single-board computers.
RobotShop offers a complete selection of robotic technology for use in hobby, education and research. With more and more educational institutions implementing robotics into their curriculum, this market segment continues to show promise. The addition of high-quality Parallax products to their current offering means that RobotShop continues to be the world's leading source for robotic technology.
"Parallax is an established leader in microcontroller technology and the distribution agreement between Parallax and RobotShop is an important milestone in the evolution of robotics in our society," said Mario Tremblay, president and founder of RobotShop. "We are always happy to come to an agreement with a new partner that excels in their field. Furthermore, by offering Parallax products, we will be better equipped to satisfy our client's needs".
Parallax products have strong educational routes and this legacy continues today. The level of support offered by Parallax is a benchmark for many other manufacturers and their willingness to train educators on their technology has allowed Parallax products to easily penetrate the educational market. Parallax also brings over 20 years of experience designing and manufacturing microcontroller technology to the table.
"RobotShop has taken the right approach to stocking our products – they're stocking all of the key Parallax parts for their customers. This is the kind of value that a successful distributor brings in addition to the technical know-how RobotShop already has in robotics. We're very pleased to have this relationship and we look forward to helping them do the best job possible", stated Ken Gracey, Vice President of Parallax, Inc.
About Parallax, Inc.

Parallax is a privately held company located in Rocklin, California. Parallax designs and manufactures microcontroller development tools and small single-board computers. Their current product line consists of BASIC Stamp microcontrollers and development software, SX chips and programmers/debuggers, Propeller chips and tools, project boards, robotics kits, educational tools, and sensors.
For more information on Parallax please contact Parallax.
About RobotShop Distribution inc.

RobotShop is a closely held company and a leader in the distribution of domestic and professional robot technology. It provides domestic and professional robots, development platforms and robot kits and specialized robotic parts. RobotShop is undertaking a broad strategic program aimed at promoting the evolution of robotic processes within our society, leading to the creation of a whole new world of possibilities: Robotics at your service!TM
For more information on RobotShop, please visit RobotShop.
###







Find More Microcontroller Press Releases