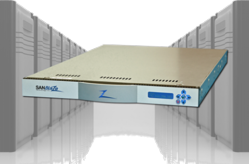 Littleton, MA (PRWEB) March 09, 2012
SANBlaze Technology, Inc., a pioneer in storage emulation systems, today announced that it has delivered the industries first 16G Fibre Channel storage emulation system. Adding to SANBlazes widely deployed installed base of emulation systems for Fibre Channel, iSCSI, FCoE and SAS, the new system emulates Fibre Channel targets and/or Initiators at 16G, the latest and fastest Fibre Channel speed available in the market.
Storage hardware and software developers, test and QA teams need 16G devices to test new and existing storage area network hardware and software products running at this new speed. The absence of real 16G targets, for example, limits product release cycles and ultimately the adoption of 16G SAN implementations. Emulated devices, utilizing SANBlaze solutions, allow for product development and testing to occur in the absence of real, and typically very expensive, devices.
We are excited about the completed development and release of our 16G emulation product at the beginning of the technology adoption cycle, said Vince Asbridge, Director of Systems and Software at SANBlaze. This allows our customers to accelerate their development and testing of 16G SAN products, by benefitting from the cost, performance and time to market advantages associated with using SANBlaze emulation solutions. The demand for 16 G Fibre Channel development products is quite large, and our new product fulfills much of this demand immediately.
SANBlaze storage emulation products have proven to be an invaluable tool for any company that provides storage solutions, both hardware and software. The products original focus on emulating Fibre Channel targets has been expanded since its inception to include both target side emulation (disks, arrays and tapes) as well as initiator solutions (hosts and servers). In addition to Fibre Channel, SANBlaze provides emulation solutions for additional storage protocols including SAS, FCoE and iSCSI.
About SANBlaze

SANBlaze Technology, Inc. is a pioneer in SAN Emulation technologies and a leading provider of storage solutions for embedded systems. SANBlaze emulation products provide storage engineers, test, QA and manufacturing teams with scalable, high performance and configurable emulated environments for FCoE, iSCSI, Fibre Channel and SAS targets and initiators. SANBlaze emulation systems are installed at most major storage hardware and software vendors worldwide.
For more information please visit http://www.sanblaze.com or email: info(at)sanblaze(dot)com





Find More Embedded System Press Releases