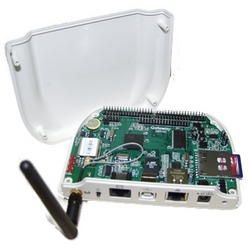 Laguna Niguel, CA (Vocus) August 1, 2009
Harmony, the newest member of SimpleHomeNets growing line of automation devices runs a sophisticated software package that is easy to use, fully capable of automation chores for homes and buildings, and totally accessible from a web browser. No PC is required for operation of the HAN since Harmony acts as a stand-alone network appliance with complete home/building automation and energy management software built-in. Operating on the Linux system, the unit makes custom applications easy to develop and deploy.
Al Choperena, founder and developer of SimpleHomeNet, says, The Harmony gateway truly brings the protocol transparency that protects against obsolescence and allows convenient expansion of existing systems. It also enables the use of a much wider array of choices in automation devices from multiple vendors."
Its Ethernet 10/100 dual speed interface provides network connectivity into any wired computer network. The available Rich Internet Application (RIA) displays an easy-to-use graphical and multi-media user interface. Harmony is configurable, programmable and expandable through SD memory card and USB 2.0 interfaces, and has a serial interface with RS-232C and RS-485 drivers. This serial port is physically configured to readily interface with the Smarthome 2412S PLM, thus facilitating management of INSTEON and X10 devices.
"We aim to fill gaps in the automation area by seamlessly bringing together the most popular and advanced technologies: ZigBee, Insteon and X10 on one flexible platform. Our Harmony multi-protocol gateway fits any home, plus is suitable for larger commercial and industrial applications for the energy monitoring features that are making automation such a vital part of our world economy.", states president and founder, Al Choperena.
Harmony is also available for customization to OEM and System Integrators. Please read the Harmony Product Brief for more details.
Simplehomenet is a division of Compacta International, Ltd.; a Delaware corporation established in 1996. Compacta is resourced to quickly bring products to market and to provide excellent customer support.
Contact:
Sammy Korotie
SimpleHomeNet
949-429-3303
###