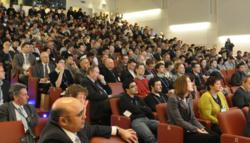 Cardiff, UK (PRWEB) March 26, 2012
A presentation on the new European Commission framework programme Horizon 2020 will lead off talks at the upcoming SPIE Photonics Europe international congress on materials, nanotechnology, biophotonics, semiconductors, lasers, multimedia, and imaging. Offering more than 1,400 technical presentations, a free-admission exhibition, Photonics Innovation Village competition, and numerous networking events, the meeting will be held at the Square Brussels Meeting Centre 16-19 April.
Photonics Europe brings together different disciplines, technologies, and perspectives from across Europe and around the world said Francis Berghmans (Vrije Universiteit Brussel). Many of the toughest issues facing optical and photonics technologies today have been selected as the basis of its programmes. These current research issues will drive the development of new products for years to come.
Berghmans is one of four General Chairs of the event, along with Ronan Burgess (European Commission), J