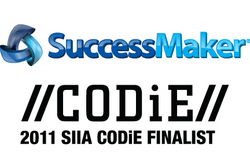 New York, NY (PRWEB) April 20, 2011
SuccessMaker, Pearson's personalized digital learning program for elementary and middle school learners, is a finalist in the prestigious 2011 Software & Information Industry Association (SIIA) CODiE Awards. With strong correlation to the new Common Core State Standards, SuccessMaker offers students adaptive paths for building mastery of essential reading and math concepts and gives teachers important student data to support instructional decisions. SuccessMaker is a finalist in the Best K-12 Instructional Solution category.
Established in 1986, the CODiE Awards celebrate outstanding achievement across the software, digital information and education technology industries. Nominated products undergo an intensive review by subject matter experts, analysts, journalists and other respected authorities in education technology.
"When I visit a school where students are learning with Successmaker, it is amazing to see how their enthusiasm escalates as they achieve at higher and higher levels with our courseware," said Bob Roliardi, president of Pearson Digital Learning. "This engagement in learning, coupled with our research-based, standards-aligned digital program, is the perfect combination for ensuring that our young people are on the path for success in college, careers and life. We are honored to add this recognition from our colleagues in the Software & Information Industry Association to SuccessMaker's growing list of awards and accolades."
With a strong focus on the most critical math and reading concepts, individualized learning for every student becomes a reality with SuccessMaker. Embedded assessment finds just the right starting point in the curriculum for each student, and the program's dynamic presentation of content focuses instruction on areas where each learner's skills need to be strengthened.
SuccessMaker delivers content through a highly engaging interface that makes math and reading instruction, practice and assessment fun. The program is highly interactive, addressing multiple learning styles and making students active participants in their learning, and the game-like formats of many activities are challenging and motivating.
SuccessMaker can be delivered through a variety of deployment models, including a new fully hosted model that allows SuccessMaker content and student data to be hosted by Pearson and delivered online via the web to school sites across a district.
For the second consecutive year, Pearson tops the list of companies with products named as CODiE finalists, with 15 innovative ed-tech and information management products earning recognition. All were developed based on the company's commitment to leveraging the power of technology and innovation to prepare today's students for success in college and careers. Pearson products earning finalist honors span the spectrum of today's breakthrough education and business technology products, such as mobile learning apps, educational games, technology-driven professional development, and robust systems for managing information and data. Pearson's programs are focused on college- and career-readiness and preparing students to meet the Common Core State Standards.
In addition to SuccessMaker, the company's products moving on to the next round of competition in this year's CODiE Awards are Calculus: Early Transcendentals (e-Book); enVisionMATH: Understanding Fractions; EQUELLA; Grammar Jammers Primary Edition; Hospitality and Tourism Interactive; MyMathLab Algebra I and II; MyMathTest; MyReadingLab; myWorld Geography; PowerSchool 6.2; PowerTeacher 2.0; SuccessMaker Collaborate; and Words Their Way Online Workshop.
In the next step of the CODiE Awards process, SuccessMaker will be voted on by the entire SIIA membership, who determines the winner in each category. The CODiE Awards will be announced at the 2011 Ed Tech Industry Summit in San Francisco on May 23.
About Pearson
Pearson (NYSE:PSO), has as its mission to work side by side with states, districts, teachers, students and parents to ensure that every child is prepared for college and careers. For more information, visit http://www.pearsoned.com/.
# # #