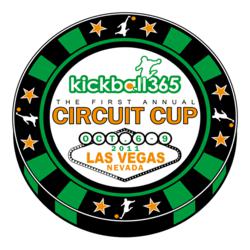 Washington, D.C. (PRWEB) October 17, 2011
The National Tour of The Circuit came to an exciting conclusion in Las Vegas, Nevada this past weekend as the Meatballs of Ft. Lauderdale, Florida defeated the New York Shower Hammers of New York, New York to claim the first ever Circuit Cup Championship. Produced by Kickball365 and presented by Complete Discovery Source, Inc. (CDS), an electronic discovery service provider, The Circuit Cup Championship brought together the 20 best competitive kickball teams from across the country for the final tournament of the exciting first Circuit Cup season.
After an extremely well-played and hard-fought day, the 2011 Circuit Cup Champions are Ft. Lauderdales own Meatballs, said Matt Kemph, Founder/CEO of Kickball365. The championship weekend in Las Vegas was the perfect way to cap our first Circuit Cup season. Our hats go off to all the teams who attended, and particularly to the runners-up, the New York Shower Hammers, and our semi-finalists, Fully Loaded from Ft. Lauderdale, Florida, and Superdudes from Milwaukee, Wisconsin. While were sad to see the 2011 season conclude, we cant wait to get the 2012 season under way.
The Circuit Cup Championship took place on Sunday, October 9th at the UNLV Intramural Field. 20 teams from across the U.S. competed in a round robin group play of four games in the morning and the top 16 teams advanced to a single elimination tournament to conclude the day. Consolation prizes were awarded to those teams that reached the round of eight, the semi-finals, and the runner-up. Ultimately it was the Meatballs who won the championship, taking home a $ 10,000 cash prize and the 2011 Circuit Cup Trophy.
This has been a great season for the Meatballs, and winning the first ever Circuit Cup Championship is an accomplishment that we wont soon forget, said Meatballs captain Kevin Carter. The Championship was extremely well run, with great reffing and top notch competition. We loved it and well be back for more Circuit action in 2012.
What made the The Circuit Cup Championship truly unique is the breadth and depth of teams that were able to attend, said Kemph. The Circuit rules and structure enable both veterans and home league heavyweights to compete head-to-head for a shot at the championship, and I think that bodes well for our growth. In addition to a great championship match, we also had two great semi-finals teams: the Superdudes, who won their hometown league, the Midwestern Unconventional Sports Association (MUSA), and then came to Vegas and proved that they have what it takes to hang with the best teams in the country; and Fully Loaded from Ultra Kickball, who were runners-up at the Virginia Beach Kickball Open earlier in the season and had a very strong year. Our congratulations to all of the teams who attended on a great weekend and a tremendous season.
For their runner-up finish, the New York Shower Hammers took home a cool $ 2,500. Both the Superdudes and Fully Loaded earned $ 1,250 apiece for their Final Four finishes, and quarter-finalists Panik Attack, Lock It Up (NY), Whiskey (AZ), and iB (DC) took home $ 625 each. The $ 17,500 figure is the largest tournament cash prize pool in the history of competitive kickball. It brings the total cash prizes awarded by all Kickball365 Circuit Events in 2011 over $ 35,000.
In addition to the Circuit Cup Championship, The Circuit also handed out its year-end National Tour Awards that were voted by the Circuit Players themselves.
Registration for next years Circuit National Tour will open in January 2012. In the meantime, follow Kickball365 on Twitter (http://twitter.com/kickball365) and on Facebook (http://www.facebook.com/Kickball365) for all of the latest information on The Circuit during the off-season.
For more information on The Circuit, visit http://www.ThisIsKickball.com
For more information on Kickball365, visit http://www.kickball365.com
About Kickball365

Founded in 2006, Kickball365 enables people to make friends and have fun through local kickball leagues and one-of-a-kind tournament vacation experiences. We are the home for competitive kickball in America. Kickball365 produces The Circuit, the only national, professional tour of top-flight, competitive kickball tournaments. Our tournaments are one-of-a-kind vacation experiences where teams compete to win their share of cash prizes. Over 4,000 players will experience Circuit kickball this year. Think your team can compete? Register today at http://www.thisiskickball.com.
About Complete Discovery Source

Complete Discovery Source, Inc. (CDS) provides eDiscovery technology solutions and services for litigations, investigations and other data-intensive disciplines. Headquartered in New York City, with offices in New Jersey and Washington DC, the company was founded in 2003 and has received numerous awards for its exemplary client services. As a full-service provider of e-discovery services, CDS merges proven technology with a team of experienced professionals to provide a best-of-breed suite of solutions. CDS has established itself as a trusted advisor to law firms, national and international corporate legal departments and government agencies by providing cost-certainty while maintaining accuracy and efficiency. For more information, contact Complete Discovery Source at cds(at)cdslegal(dot)com or visit http://www.cdslegal.com.
About The Circuit

Founded by Kickball365 in 2010, The Circuit is the only national, professional tour of top-flight, competitive kickball tournaments. Featuring one-of-a-kind vacation experiences, Circuit teams compete to win their share of $ 20,000 in cash prizes. Circuit Events include the South Florida Kickball Open, New Mexico Kickball Open, Virginia Beach Kickball Open, Kickball365 Open in Washington DC, New York City Grand National Tournament, and Circuit Cup Championship. These Circuit Events comprise The National Tour each year, in which registered teams compete for Circuit Points and prize money.
Media Contact:

Matthew Kemph

Founder/CEO

Kickball365, Inc.

contactus(at)kickball365(dot)com

http://www.kickball365.com

(202) 683-9971
###





More Electronic Circuits Press Releases