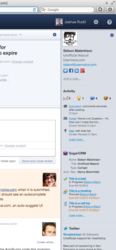 San Francisco, CA (PRWEB) April 24, 2012
This morning UserVoice, the easiest web-based customer service solution, launched Inspector: a tool which allows customer service agents to see who is on the other side of their support tickets. Inspector uses the contacts email address to pull contextual data from UserVoice, SugarCRM, and publicly available data from social profiles from LinkedIn, Twitter, and the rest of the social web. This means you can instantly know the title of the person youre talking to, what they might have recently said about your company on Twitter, if theyre talking to your sales team, any other tickets or ideas theyve recently added in UserVoice, and if other UserVoice agents have posted notes about them.
Theres a lot of talk about how social media is changing the nature customer support but were the first to give companies an easy way to use social media profiles to generate more informed, and thus more engaging, customer interactions says CEO Richard White. Its hard to provide great service unless you know who youre talking to, but many customer service teams dont bother to gather this context, because its time-intensive. Inspectors advantage here is speed. Inspector loads contextual information from sources across the web in about 4 seconds, while gathering this information manually can take over a minute per ticket. White also notes that much of this is information they wouldnt easily find on Google anyway, such as whether the person theyre speaking to has a Github account (and will likely be receptive to technical instructions).
UserVoice is very aware that CRMs represent the primary other system agents have to look in to answer support requests, and so is launching Inspector with a SugarCRM gadget (at SugarCon in San Francisco) that gives agents a live view of sales activity in SugarCRM without ever having to leave UserVoice.
UserVoice says that Inspector was designed to be extensible, and UserVoice customers – as well as other vendors – will be able to add their own gadgets. Adds White, Weve architected the Inspector platform in such a way that companies, and other SaaS vendors, will be able to do systems integrations simply by creating an HTML page and adding it as a gadget in Inspector. This will save companies a tremendous amount of time, with integrations measured in days instead of weeks or months, and money over more complicated API to API integrations.
Inspector is available on all UserVoice accounts. Learn more about Inspector at http://www.uservoice.com/inspector.
About UserVoice
UserVoice is the complete, modern, web-based customer service solution thats incredibly easy to set up and use. UserVoice has created the webs most complete customer service solution by combining UserVoice Helpdesk, a streamlined customer support solution built for the web, with UserVoice Feedback, a unique online customer feedback forums that enable companies to engage with their customers at scale. UserVoice goes wherever the customer goes, and can be embedded directly into customer websites, iPhone/iPad apps, and Facebook pages. With UserVoice, companies spend their time becoming experts on their customers, not on their customer service software.
Founded in 2008 and the inventors of those feedback tabs you see all over the web (which 182 people see every second), UserVoices products are used by over 90,000 organizations including Rackspace, SwiftKey, Microsoft, IGN, Zynga, About.me, HipChat – in 170 countries. Plans start at $ 0 / month. Get started today at http://www.uservoice.com.