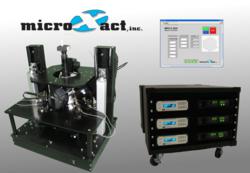 Blacksburg, VA (PRWEB) December 13, 2011
MicroXact Inc. introduces the new MPS-C-300 and MPS-C-350 magnetic probe stations. With arbitrary user-defined orientation and profile of the applied magnetic field these affordable probe stations provide unmatched throughput and characterization capabilities for spintronic and magneto-electronic devices and circuits. These first-of-their-kind systems offer wafer-size testing capabilities with convenient and easy-to-use sample handling and micromanipulator positioning which enable accurate and thorough testing for both R&D and production environments.
The MPS series probe stations provide new testing and characterization capabilities which are not currently available on any other probe station on the market. Whether you are probing samples as small as 2mm or wafers as large as 200mm, the systems give you the ability to quickly and accurately position the sample and in a generated field of any orientation. Such a system can significantly speed up and simplify magneto-electronic testing. In addition, the systems unmatched performance specifications in accuracy, stability and versatility, as well as a precise and easy-to-use interface make the MPS-C-300 and MPS-C350 two very powerful analytical systems.
For more information on the MPS-C-300 and MPS-C-350 magnetic probe stations, please contact: MicroXact Inc., 2000 Kraft Drive, Blacksburg AV, 24060; Tel: (540) 443-9273; Fax: (866) 588-0908; E-mail: products(at)microxact(dot)com. Or, visit us online at http://www.microxact.com/probestations.
MicroXact Inc. is a leader in developing testing and characterization solutions for semiconductor industry and research. Our products include the most cost effecting fully automated probing solutions on the market, SPS-2600-PLUS and SPS-2800-PLUS, flexible, easy to use and affordable manual probe stations SPS-2000 and SPS-2200 and world-first 3D magnetic field probe stations MPS C-300 and MPS-C-350. MicroXact customers include leading university, government research institutions and commercial businesses in the fields of semiconductor materials and devices. http://www.microxact.com/
###