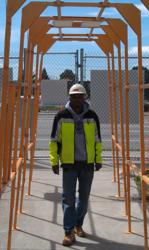 Reston, VA (PRWEB) April 30, 2012
ADR Software, LLC, manager of the Automated Daily Reporting Network and the Workforce Monitor service, today announced that it has been retained by four large general contractors to initiate workforce monitoring and reporting services at new projects located in Aurora, Colorado; Greeley, Colorado; Washington, DC and Baltimore, Maryland. Clients include Kiewit-Turner, Twin Contracting, HITT Contracting and Turner Construction.
"We are pleased to have been given these important assignments," said Bruce Labovitz, ADR's co-founder and President. "These are big and complex projects spread out over large areas that require timely information regarding labor and manpower activities. Workforce Monitor gives the project managers and project administrators access to real-time insight into the composition of their workforce at any given time. Using any web-enabled device like a cell phone, an iPad, a laptop or tablet, project managers can evaluate not just who actually came to work today but also who was supposed to come to work today and who is still at work at any given time during the day. ADR's real-time workforce information is invaluable in bringing a project to conclusion on-time and on budget."
"One of our customers is using Workforce Monitor to insure compliance with local economic development and hiring objectives," Labovitz continued. "With Workforce Monitor on site the client is able to evaluate their compliance on a daily, monthly or project-to-date basis. We believe this real-time analysis provides a competitive advantage in the bidding process and we work closely with our general contractor clients to include ADR in their bid packages."
ADR also announced that its database of manpower had grown to over 20,000 registered (or tagged) resources. ADR's Workforce Monitor service is the pedestrian equivalent to the RFID-based automated highway toll collection systems. With ADR's proprietary Automated Daily Reporting Network, all ADR portals are connected together so a worker who has an ADR tag on their hard hat can be read at any Workforce Monitor enabled project. As such, ADR is able to track workers and sub-contractors across multiple projects for a single general contractor while eliminating the need for redundant data collection and processing. ADR's Workforce Web Application interacts with leading construction management systems to seamlessly integrate data collected in the field with daily reports, work schedules and accounting requirements.
Workforce Monitor is a service of ADR Software, LLC headquartered in Reston, Virginia. General contractors, owners, project managers and sub-contractors use the service to empower real-time workforce decision making, to provide invaluable project workforce documentation, to improve safety awareness and response readiness and ultimately to manage risk.
Workforce Monitor utilizes RFID tags, embedded in stickers affixed to hard hats and ID badges, to monitor workforce traffic without delays, interruptions or intrusions. Workforce Monitor is currently monitoring over 20,000 workers at construction sites throughout the United States.







Find More Embedded System Press Releases