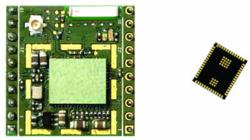 (PRWEB) November 15, 2010
Sunnyvale, CA WhizNets Inc., the provider of highly embedded wireless solutions, announces the addition of M2M 802.11bgn solution. The M2M embedded 802.11n solution is a combination of hardware module requiring no wireless experience to use it and simple to use low footprint software stack, drivers with advance features of security and roaming. Solution is available with low footprint microcontrollers from various companies like TI, Atmel, ST, NXP, Samsung and many more; a low footprint microcontrollers solution is supported by starter kits and reference designs with support for both Super-Loop (No OS) and RTOS. The solution is also available for various Linux and Android platforms.
Users can enable custom applications, on existing microcontroller based products or microcontrollers of choice for new products with wireless LAN interface. Get a price advantage, by integrating the solution avoiding cost of one extra microcontroller with WiFi for less than $ 10.
The solution can be integrated into a number of creative applications including Industrial control and networking, home and building automation, Cable replacement, Multifunctional peripheral with WLAN connectivity, ATM terminals, Point-of-sale terminals, Ticketing machine, Vending/gaming machine, Data collection, Credit card & check verification system, Remote metering – Security system, Data collection and many more to help manufacturers and integrators propel the Wireless market forward.
M2M solution is supported by a complete 'Network Suite' of TCP/IP, FTP client, HTTP, POP3, SMTP, Telnet, SSL, PPP for quick application development, as well as a host of reference designs using GPS, GPRS, Memory, Fingerprint scanner, RFID, Sensors, USB, UART etc.
"By advancing our M2M embedded wireless solutions portfolio for the next generation 802.11bgn feature, WhizNets is able to address growing industry trends in M2M embedded wireless for various niche markets, control automation and security," said Atul Garg, CEO, WhizNets Inc. "This solution family not only supports 11n feature but at a small incremental cost to microcontroller based products provides best in class low footprint wireless interface with minimal effort."
The Whiz-Fi-SMD-bgn module is available in SMD package and only needs power supply, crystal and Antenna to be used in customer applications reducing overall BOM cost and eliminating design complexity. Whiz-Fi-SPI-SDIO-bgn is available as a ready-to-prototype PCB module, just connect it to the microcontroller and start developing application. Both solutions provide the SDIO/SPI interface for connection with the host processor.
For rapid prototyping and evaluation of Wireless LAN, WhizNets offers the WiFi Starter Kit packages. A WiFi Starter kit package includes Embedded WLAN SDK, Sample WLAN application, Evaluation Kit, Whiz-Fi-SPI-SDIO-bgn module for prototype creation and Whiz-Fi-SMD-bgn module for your product creation along with direct engineering support. WiFi Starter kit also provides complete hardware reference design and documentation.
Visit WhizNets Inc. for more information on WiFi Modules and WiFi Starter Kits or contact us with your choice of OS and platform for availability.
Pricing & Availability:

The Whiz-Fi-SMD-bgn and Whiz-Fi-SPI-SDIO-bgn modules are available immediately and can be purchased in sample and production quantities.
For pricing, please contact WhizNets Inc.
About WhizNets Inc.

WhizNets is engaged in providing M2M embedded wireless solutions, Android solutions along with custom product development and Testing in the area of Communication, Networking, Automation, Control, Android Mobile systems and Android applications. WhizNets team is expert in wireless connectivity Wireless LAN, WiMAX, GPRS, GPS, Android and client/server as well as standalone applications with many years of consumer focused solution provider and system integration experience working with many startups to multinationals. In our area of expertise and using our solutions portfolio we provide turnkey product design and development with compliance and certifications. We can start from a concept or take a customer's existing product and add innovative features and functionality to it. Our constantly growing solutions portfolio gives customers a time to market advantage along with cost benefits.
The WhizNets word logo is registered trademark by WhizNets Inc. All other trademarks are registered by their respective owners.
Special Note: References to WhizNets, Inc. Statements concerning WhizNets Solutions' product market, relationships with its customers and new products are forward-looking statements that involve a number of uncertainties and risks and cannot be guaranteed.
# # #