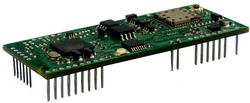 Sunnyvale, CA (PRWEB) November 4, 2009
WhizNets Inc., after offering Whiz-Fi-SMD module for $ 10 for embedded market, is now offering a ready-to-go WiFi System Module, a new category in the WiFi space which allows to develop application on same module and to create a production ready solution without the need of extra host Processor making it possible to create an exciting new set of applications that are easy and cost-effective to bring to the market.
System Module, based on Atmel processor is FCC/CE/ROHS certified for various international requirements and saves on time and money to get the product to market faster. No third party tools or software to license is required. GCC tool chain is supported out of the box and can be supported for IAR or other tool chain.
WLAN Atmel System Module hardware has peripherals like UART, USB, CAN Bus, ADC, GPIO and can be used by the application.
Benefits