Description
Do you often forget to irrigate your plants? Do you have to ask your neighbors to take care of them when your whole families are out for a vacation? Don't worry any more! Here is a solution. This embedded system, worry-free automatic timed plant feeder, can do all the services for you. It can:
regularly feed water to your plants for a specified amount of water;
and also be used as an alarm clock.
You can set your desired feed pattern, and change all options at any time. It is easy, low-cost, and safe. It makes your worry free while you still enjoy your plants.
---
Introduction
The following diagram shows the system schematic.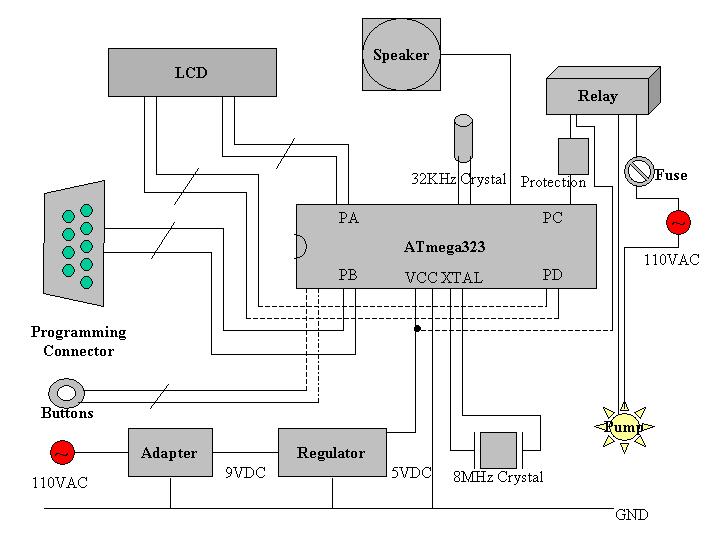 It contains the several major blocks:
ATmega 323 is the CPU of the system.
5 VDC power supplier: an adaptor first transforms 110 VAC 60 Hz into 9 VDC; then a regulator keeps VCC stable at 5 VDC.
A crystal of 32KHz is used to provide a real-time clock.
A crystal of 8MHz is for the CPU frequency.
A block of circuit is built for programming so that the executable code can be downloaded from a computer to the system via a serial RS-232 port.
A LCD is used to display the time and system states.
A speaker is used for alarming and making sounds.
Push buttons allow a user to change the system states.
A relay is used to control the AC of the water pump with a DC signal from the processor.
A block of circuit is used to protect the processor since a high voltage introduced from the relay can damage the processor.
Some key blocks will be explained in detail later on.
Acknowledgements
The water pump was on-line purchased from Pump World. Most of other electric components were bought from HSC. The project has been hard-wired on a PC board from Jameco, and fits nicely in a plastic box from TAP Plastics. The whole system has been fully tested and works successfully. Here is how the system looks like:

For more detail: Worry-Free Automatic Timed Plant Feeder