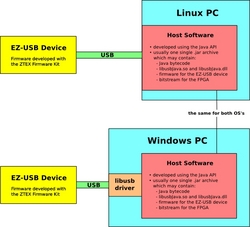 (PRWEB) October 4, 2010
In order to support the Open Source Community ZTEX (see http://www.ztex.de) launches an Open Source Discount Program. Customers developing Open Source projects based on ZTEX USB-FPGA Boards and Microcontroller Modules can get a discount of up to 50% (or even more).
ZTEX is a leading producer of EZ-USB FX2 based FPGA Boards and Microcontroller Modules mainly intended for prototyping and small series productions. In combination with base boards they can also be used as development / evaluation platform.
According to our 'open' product philosophy ZTEX has developed an Open Source EZ-USB SDK which is, of course, mainly intended for ZTEX USB-FPGA Modules and Microcontroller Boards, but also works with other EZ-USB FX2 based hardware.
Some of the products for which a discount can be obtained are: