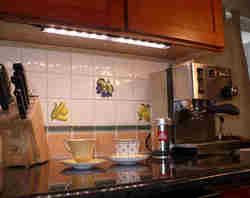 Boulder, CO (Vocus) September 23, 2010
Albeo Technologies Inc., a leading LED lighting manufacturer, was recognized for their new Agito intelligent under cabinet lighting system by Lighting for Tomorrow, a competition that identifies light fixtures that have successfully integrated LEDs to efficiently deliver high-quality white-light.
Agito (Latin for to put in motion) represents a major step forward in energy conservation and lighting. The integration of micro-sensors and micro-controllers into an intelligent system localizes the energy and lighting control to deliver unsurpassed savings.
LED technology eliminates the problems associated with traditional sources in task lighting. Halogen and incandescent systems are fragile, short lived and heat the shelf space. Albeos Agito intelligent under cabinet luminaire provides high light levels with insignificant heating in an efficient, durable system.
We are proud to win our second Lighting for Tomorrow award. Albeos Agito allows lighting designers to maximize light levels to improve productivity while rationing energy. Already deployed in several large installations, our agents are finding that this product is a real differentiator said Jeff Bisberg, Albeo CEO.
Since 2002, the Lighting for Tomorrow competition has recognized the best in decorative, energy efficient lighting fixtures. In 2006, Lighting for Tomorrow opened up the competition to new technologies by holding the first SSL competition. The organizers and lead sponsors of Lighting for Tomorrow are the American Lighting Association (ALA), the Consortium for Energy Efficiency (CEE), the U.S. Department of Energy (DOE), and the Pacific Northwest national Laboratory. Go to http://www.lightingfortomorrow.org for more information.
Albeo Technologies, Inc. manufactures high quality, long-lasting LED lighting products for commercial and industrial facilities. Albeo has won 10 independently-judged product and company awards including 5 from the US Department of Energy (DOE). Albeos C-Series, Surface Mount, and S-Series sealed fixtures are designed for general lighting applications and deliver illumination solutions that range from 3,000 to 25,000 lumens. Other products include T8LED Conversion Kits and Troffers for retail, office and school lighting. Details for the entire product line are available on Albeo's website at http://www.albeotech.com.
###