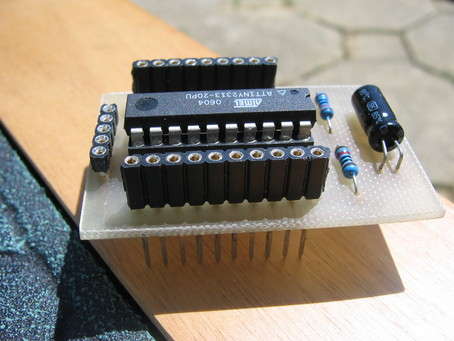 Somewhat similar to PIC 12f675 mini protoboard, but extended and with additional boards.
Using attiny2313.
Step 1 Scheme
Let us first start with a scheme. The scheme is pretty obvious since it only connects attiny2313 with the pins and the only additional elements are resistors and capacitor for reseting the microcontroller.
Step 2 Bottom view of the board

Here is the bottom view of the board, so you can see the main idea with this kind of boards.
Step 3 Now what?
Here are some ideas to extend the boards with "extension boards".
Let me start with power supply. If you are using 9V battery you can make this kind of board with 78L05.
Step 4 Another idea

I've also created a board with 4 LEDs and two buttons. The elements can be connected to any pin using wire with one female and one male side.
For more Detail: AVR mini board with additional boards using attiny2313 microcontroller