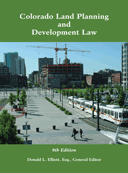 Denver, CO (PRWEB) May 22, 2012
Now in its ninth edition, Colorado land Planning and Development Law reviews relevant law for private and public planners, planning commissioners, government officials, consultants, and lawyers who work in the area of land use planning, development, and redevelopment in Colorado. Intended as a guide to help professionals avoid legal problems and evaluate the seriousness of potential legal concerns, this book is filled with easy-to-follow case summaries and statutes addressing land use issues. While this book focuses on Colorado land use law, some influential decisions from other jurisdictions and federal decisions have also been included.
This practical reference is written and updated by Colorado experts on land planning, edited by Donald Elliott of Clarion Associates, and published in association with the American Planning Association Colorado Chapter.
The 9th edition includes new references to land use law cases decided from 2009-2011, an expanded discussion of the law of state and federal pre-emption of local lawparticularly as it relates to energy projects, and an expanded discussion of county powers for location and extent review of public facilities. It also features a discussion of recent Colorado cases on the need for prompt decisions and appeals on applications regarding signs of free speech, a discussion of the recent 10th Circuit RLUIPA decision in Rocky Mountain Christian Church v. Boulder County, an updated discussion of Colorados complex annexation requirements in light of recent court decisions, as well as an updated discussion of Colorado urban renewal requirements in light of recent legislation restricting the ability to include agricultural lands in renewal districts.
About Bradford Publishing Co.
Founded in 1881, Bradford Publishing Company is Colorado's oldest and most trusted publisher of legal information, including legal forms, electronic legal forms, law books, and Colorado statutes. With a retail store and offices in Denvers historic LoDo district, Bradford Publishing provides legal forms and reference materials on a variety of legal topics for attorneys, other professionals, and consumers.
The commitment to quality is the cornerstone of Bradfords business philosophy and they regularly update the content of their books and other publications, so consumers can rely on the most accurate and current information available.