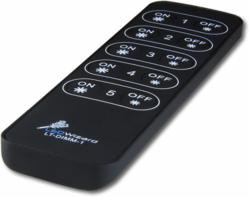 Lynnwood, WA (PRWEB) April 06, 2012
North Seattle, LED Company Solid Apollo is excited to announce the launch of a new, cutting edge five zone LED lighting control system. This new system will enable architects, lighting and interior designers to install state-of-the-art, fully dimmable LED lighting systems with ease and full range of control.
Once again Solid Apollo has answered the call of designers, architects and LED lighting users. In the past, it was extremely difficult to control dimmable LED lighting systems spread out across different areas. The problem was; there was no solution to remotely control independent LED zones with just one wireless remote. Solid Apollo has designed a high quality solution to this complex problem by providing an elegant solution to seamlessly control up to Five Zones that contain dimmable LED lights or LED strip lights.
This is the first product in its class that enables the user to have greater and more precise control over any LED lighting installation. Dimming LED light has always been difficult, but our Five Zone LED Lighting Dimmer makes this problem a thing of the past. This product is perfect to control LED light strips for example, states Solid Apollos President, Manuel Barquin.
With a flash of brilliance, Solid Apollo's new Five Zone LED Dimmer tackles many of the problems architects and interior designers commonly face when implementing LED lighting systems. Anyone that would like to control lighting in separate rooms, or different regions of the same room, will be amazed by the ease of this new solution.
The Five Zone LED Lighting System includes one, Five Zone Wireless Remote Control and one Receiver. Optional receivers are available for each additional zone. Install additional receivers anywhere without re-modeling or construction and do it yourself without complicated tools or wiring diagrams. Each zone can have unlimited receivers, thus enabling the user to maximize power efficiency and eliminating the need to run complex wiring.
Each wireless receiver can be 100 feet away from the remote, enabling each zone in the house to be controlled from one location. Also, this system has many attractive features, like soft ON & OFF, recordable memory presets and short circuit protection.
About Solid Apollo.com: Solid Apollo is a cutting edge LED lighting company which designs produces and distributes a wide range of High Quality LED lighting products and lighting solutions to meet todays ongoing new generation lighting demands. For more information visit Solid Apollo at http://www.solidapollo.com.