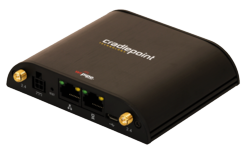 Boise, Idaho and Las Vegas, Nevada (PRWEB) May 08, 2012
CradlePoint, a leader in 4G/3G wireless networking for enterprise, today showcased, at its Interop Las Vegas Booth (#535), its new CradlePoint COR IBR600LE and centralized management capabilities within a simulated distributed enterprise networking environment. CradlePoints ability to deploy remotely managed networks using WiPipe Central Remote Management Software allows distributed enterprises to centrally manage, configure, and monitor routers keeping branch locations and customer facing applications like point of sale systems, digital kiosks, and digital signage online regardless of location.
CradlePoint will feature a live demonstration of the WiPipe Central Remote Management Software and a vivid video demonstration of its wireless backup (or failover) solution in which an axe chops a wired line connected to the CradlePoint ARC MBR1400LE router with integrated 4G. In a matter of seconds after the wired line is cut, failover to the wireless connection occurs seamlessly.
With diminishing IT budgets, distributed enterprises cannot afford the costs of onsite IT support or truck rolls to maintain, update, or fix assets in the field, noted George Mulhern, CEO of CradlePoint. Enterprises need for reliable and flexible networking is driving them to embrace 4G/3G wireless networks with remote management capability to more effectively configure, monitor, and maintain these applications. WiPipe Central allows IT Managers to set proactive alerts to report connectivity downtime, data usage thresholds, and overdue device reporting, which helps IT maximize productivity and reduce costs.
Todays announcement builds upon CradlePoints recent launch of the CradlePoint COR IBR600LE with embedded dual-mode 4G/3G connectivity on Verizons nation leading LTE network. The machine-to-machine (M2M) industry has received the compact and ruggedized router with critical acclaim.
"In evaluating the CradlePoint COR IBR600LE, we've been very pleased with its performance on Verizon's 4G network," said Stephen Choi, vice president of business development at STRATACACHE. "As a leader in the digital signage market, our goal is to help retailers and brands connect with consumers through digital experiences that are highly interactive and enhance the shopping experience. In this case, a reliable, high-speed Internet connection is vital to ensuring the media-rich vision of our solutions. The IBR600LE does just that. It's compact, has an excellent WiFi signal, and a very strong, stable 4G connection. It's ideal for our digital signage solutions."
Both the CradlePoint COR IBR600LE and the CradlePoint ARC MBR1400LE provide flexible, reliable, and secure connectivity for branch locations and high-bandwidth applications like video surveillance, digital kiosks, and digital signage at the speeds of Verizon 4G LTE. Regardless of application, CradlePoints solutions are built to provide a high-level of availability, security, and centralized management with CradlePoints proprietary WiPipe Central Remote Management Software.
The delivery of CradlePoints COR series coincides with the emergence and rise of the M2M market. Because of the speed afforded by 4G LTE, enterprises are turning to wireless connections and the cloud to better manage their operational applications and efficiencies and to meet the rising demands of consumers who want to connect mobile devices using WiFi and Ethernet.
The CradlePoint COR IBR600 series routers are available from authorized CradlePoint partners. To learn more, visit CradlePoint.com/CORLE or contact CradlePoint at + 1.855.813.3385 or email [email protected].
About LTE

Long Term Evolution (LTE) is a mobile broadband standard produced by the 3rd Generation Partnership Project (3GPP), a partnership of several telecommunication standards bodies worldwide. The LTE standard features high data throughput, high spectral efficiency, and low latency, providing users with a high-quality voice, data, and video experience while allowing more users to share the same bandwidth. Visit http://www.3GPP.org for more information about LTE.







More Embedded System Press Releases