New in V7
The award winning EAGLE is a powerful and flexible PCB design software offering high level functionality of expensive commercial circuit board design software at a fraction of the cost for over 25 years. EAGLE offers the three modules: Schematic-Editor, Layout Editor and Autorouter embedded on one single interface. EAGLE is easy to learn, easy to use and easy to buy. It runs on Linux, Mac and Windows and allows feature enhancement, such as simulation, 3D-visualization, data import and export and self defined commands, through User Language Programs (ULP's) which are partly integrated in EAGLE and available at the download area.
New features in EAGLE Version 7
Autorouter
The existing autorouter is based on a rip-up retry algorithm in which it takes into consideration that parameters defined in Design Rule Checker & NetClass. This is a single thread process by which the end user needs to run the autorouter multiple to test different configuration.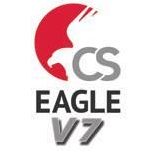 The new autorouter for v7 augments the existing algorithm.  One of the most noticeable effects of the new autorouter is that it is Multi-Threaded and therefore can take advantage of Multicore processors.
Multi-Threaded
This means that the autorouter can run multiple configurations simultaneously.  The user will be able to select the best outcome that accommodates his design.
On computers with multiple core processors each thread can own its own processor core.  This optimizes EAGLE's use of the available hardware.
TopRouter
The new autorouter includes the option to use our TopRouter. This intricate process will result in boards with significantly less points of transition compared to our previous algorithm.  This will result in very cost effective optimal boards that will need less manual interaction by the end user.
Hierarchical design
This feature stems from multiple surveys hosted by CadSoft and requests monitored by our support and development team.   Hierarchal design helps designers to organize large schematic designs into small functional blocks which can then be assigned to various members of a team.  It helps collaborative design teams to work on specific areas of a large complex design, which can then be easily integrated.
At the end all these designs can be integrated due to our newly implement hierarchal design capability.  This also favours design re-use by allowing blocks of one design to be used in another design.

For more detail: EAGLE Version 7 is released!