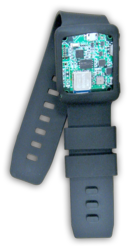 Sunnyvale, CA (PRWEB) February 15, 2012
InvenSense, Inc. (NYSE: INVN), the leading provider of MotionTracking devices for consumer electronics, today announced availability of the MotionFit System Developers Kit (SDK) to accelerate design and commercialization of wearable sensor devices for the growing fitness and remote health monitoring markets. The MotionFit SDK consists of a small 40mm x 37mm development board incorporating the InvenSense MPU-9150 single chip 9-axis MotionTracking device, a pressure sensor for altitude tracking, a TI MSP430 microcontroller with external serial flash for data logging, a 110mA/hr rechargeable battery, and communication via USB or Bluetooth interfaces enabling real-time streaming of data to smartphones. The SDK also includes Embedded MotionApps Lite software that handles all complexities of 9-axis sensor calibration and sensor fusion providing access to calibrated raw sensor data as well as fused outputs such as 3-D orientation enabling developers to focus on the differentiating features of their application. Key sensor processing tasks are offloaded to the MPU-9150s embedded Digital Motion Processor (DMP) allowing the total solution to function on small, low cost 16-bit microcontrollers. A demonstration of the SDK will be shown at Mobile World Congress in Barcelona from February 27 through March 1 in Hall 7 at booth 7F24.
According to ABI Research (August 2011), the market for wearable sensing devices will exceed 100 million units annually by 2016. Wireless connectivity will play a role in this growth enabling wearable sensors to become a must-have accessory to smartphones allowing for streaming of real-time data to mobile devices or the cloud. Wearable sensor products currently track user motions with basic 3-axis accelerometers which can accurately detect and track only a limited number of activities thus limiting their usefulness to consumers. The MotionFit SDK from InvenSense addresses key accuracy and performance issues by providing a complete 10-axis MotionTracking solution to developers encompassing a 3-axis gyroscope, 3-axis accelerometer, 3-axis compass and a pressure sensor to support a wider range of motions to accurately identify and track a broad range of activities including running, swimming, hiking, and tennis. For remote health monitoring applications, the SDK can jump-start development of devices for out-patient activity monitoring and for remotely tracking range of motion improvements during physical therapy.
The MotionFit SDK development board includes the MPU-9150, the worlds only single chip gyroscope, accelerometer and compass to deliver the first 9-axis MotionTracking device in a small 4x4x1mm LGA package. This device saves developers from having to select, qualify, integrate, calibrate and test discrete sensor components and delivers a pre-tested, pre-calibrated solution in a single package offering consistent performance over the life of the product. Software is run on a Texas Instruments MSP430F5528 16-bit microcontroller with 128Kbytes of embedded flash and 8Kbytes of RAM. An additional 256Mbytes of external flash is available to support run-time data logging for non-streaming applications. A Bluetooth 2.1+EDR module with embedded protocol stack provides wireless communication for real-time data streaming to mobile devices. A pressure sensor is also included for altitude detection to gauge the intensity of hiking and climbing activities. The 110mA/hr rechargeable battery offers approximately 5 hours of data logging.
The MotionFit SDK will be available for purchase starting February 15th from the InvenSense website for $ 149. The associated Embedded MotionApps Lite software is available for download to registered developers on the InvenSense Developer Corner website at http://www.invensense.com/developers. The SDK supports TIs Code Composer Studio (CCS) Embedded Workbench compiler and debugger software which must be purchased separately. Embedded MotionApps Lite source code is also available to developers who wish to retarget the software to alternate microcontroller architectures.
About InvenSense

InvenSense (NYSE: INVN) is the leading provider of MotionTracking devices for the consumer electronics market. The companys patented and patent-pending MotionFusion technology and Nasiri-Fabrication platform address the emerging needs of many mass-market consumer applications including smart phones, tablets, gaming devices, optical image stabilization, and remote controls for smart TVs, that require improved performance, enhanced features, and new and more intuitive motion and gesture-based motion-interface solutions. InvenSense is headquartered in Sunnyvale, California. More information can be found at http://www.invensense.com.