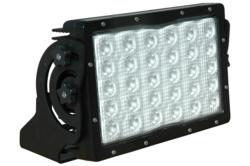 Kemp, Texas (PRWEB) February 29, 2012
The LED-BL-150W LED boat light from Magnalight.com produces 14,790 lumens of intense illumination yet uses far less power than comparable halogen or metal halide boat lights. Built for high output and durability, these LED boat lights also contain advanced pulse width modulation LED drivers that control heat, manage input current, and allow operators to optionally attach dimmers or external strobe controllers to provide precise control of light output and operating modes. These LED boat lights are ruggedly built, with aluminum housings and unbreakable polycarbonate lenses that offer IP68 rated waterproof protection and resistance to the damaging and corrosive effects of marine conditions. Thirty, 5 watt CREE LEDs paired with high efficiency optics produce a combined total of 14,790 lumens while consuming only 12 amps at 150 watts, making these LED boat lights far more efficient and powerful than comparable halogen boat lights. The LED-BL-150W LED boat light is equipped for versatile mounting with an adjustable trunnion style mounting platform that allows operators to securely attach these units to flat surfaces and adjust the fixture through 360 degrees of vertical movement once positioned in place without the use of tools. These LEDs lights are also capable of operating with a wide range of power sources and compatible with voltages ranging from 10 to 32 volts DC, making them ideal for boats where 12 and 24 volt electrical systems are most common. These high intensity boat lights will withstand vibrations, impacts, and extreme weather conditions that normal incandescent and glass bulb based lamps cannot, and are rated at 70% lumen retention after 50,000 hours of operation, making them far longer lived as well. The heavy duty construction and high power of the LED lights makes them ideal for a wide range of applications including boats, docks, marinas, shipyards, and even vehicles and ATVs.
Boaters left in the dark by old incandescent boat lights will love the LED-BL-150W with 14,790 lumens of bright white light with only a 12.5 amp draw on low voltage circuits, said Rob Bresnahan with Larson Electronics Magnalight.com. These ruggedly constructed lights with watertight construction can withstand the salt, water, vibration and abusive weather conditions so often found while boating and fishing.
Larson Electronics Magnalight.com carries an extensive inventory of LED boat lights, LED spreader lights, LED spotlights and 12/24 volt LED lights. Visit Magnalight.com to view their entire inventory of LED lighting solutions or contact them for more information by calling 1-800-369-6671 or 1-214-616-6180 for international inquiries.
# # #





Related Electronic Circuits Press Releases