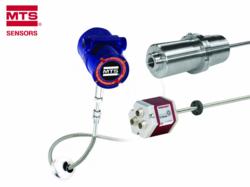 Cary, NC (PRWEB) April 10, 2012
MTS Systems Corp., Sensors Division, will meet with customers and industry leaders in the offshore market this week at Offshore Technology Conference (OTC) 2012 in Houston, April 30 to May 3 (booth # 9252) to showcase and discuss a wide range of innovative magnetostrictive sensor solutions. MTS Sensors products meet a wide range of industry needs including ease of installation, highly accurate measurement and 3-in-1 measurement across many different applications. These include petrochemical storage tanks, drilling rigs and others.
Our goals at OTC include showcasing our current products and gauging emerging needs in the offshore equipment marketplace, Lee Aiken, product marketing manager for liquid level products with MTS Sensors, explained. Magnetostrictive sensors offer unique advantages that enable manufacturers of both equipment and storage vessels to save money and improve their productivity. OTC allows us to discuss those advantages and explore new applications that directly meet industry needs.
Specific products on display at OTC 2012 include: