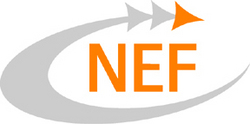 Framingham, MA (PRWEB) December 20, 2007
Have you ever wondered how that HUGE curved electronic billboard on Times Square in New York City can keep live news and financial data scrolling continuously? The dark fiber experts at NEF, Inc., a Boston-based telecommunications consulting firm, sourced a custom optical network to keep the data live and feeding uninterrupted across one of Times Square's most notable attractions: the seven-story TV screen.

The enormous screen is visible for several city blocks and helps to make Times Square one of the most recognizable landscapes in Manhattan. The content for that screen is created and managed by a computer in an office in Times Square. That data and content rides over a fiber optic network to get from the computer where it was created to the big screen you see.

NEF, a leader in enterprise dark fiber solutions, was enlisted to help connect the video CGI equipment to the big electronic billboard, which features live stock quotes and up to the minute news and information. NEF sourced a dark fiber network to carry the video signal from its point of origin to the screen where it is displayed.


What folks passing by Times Square probably don't know is that dark fiber is optical fiber infrastructure that is in place but is not presently being utilized. Once used exclusively by large telecommunications carriers who leased the fiber(s) and "lit" multiple circuits over a single path, the cost of dark fiber and the associated electronics required to light fiber have now become much more affordable and easy to manage.

Using fiber to carry the mass quantities of financial data from a remote office to the Times Square electronic billboard was uncharted territory. NEF was able to locate a provider and source a custom dark fiber network in a short time frame, as well as provide enough flexibility to be able to test the application and projected distance before going live.

The result was streaming information and entertainment on a grand scale. Passersby in Times Square can now have more data than they can imagine on a larger-than-life screen.

Beyond the big screen of Times Square, custom dark fiber networks are becoming increasingly popular as businesses across a wide variety of markets are requiring affordable, scalable network solutions. "Dark fiber is providing benefit to many industries. Having a cost-competitive alternative to the local exchange carrier is important to many businesses to meet their bandwidth needs," according to Steven McCarthy Vice President of Business Development of NEF. "Much like the application in Times Square, we have seen companies of all sizes and varieties utilize dark fiber to meet their networking needs."

Creating custom dark fiber networks is just one of the strategies NEF employs to bring many businesses the best communications network at the most competitive price. NEF has also developed industry-leading database tools such as FiberLocator and has partnered on the recently-launched FindADataCenter.com– both used to locate and build custom fiber networks, from the fiber in the ground to the off-site data center to meet the storage and redundancy needs of any business network.

About NEF
NEF, Inc., is one of the nation's top telecommunications consulting firms, offering 25 years of industry experience and a proven methodology for providing its customers with the best networks, information and pricing available. NEF can provide a broad spectrum of products from dark fiber to high bandwidth, fully managed optical services. Through their partners, such as AboveNet, NEF designs custom connectivity solutions and provides access to over 50 fiber providers in 48 states, 3 million miles of metro and national fiber and over 50,000 lit buildings.

About FiberLocator
FiberLocator is more than a map–it is an invaluable resource guide for businesses developing a custom fiber network. Offering dark fiber maps along with consulting to maximize communications ROI, NEF has developed one of the most comprehensive asset-based telecommunications databases in the industry encompassing over 40 facility-based carriers in over 100 metro areas all over the country. With FiberLocator, NEF provides the most complete and up-to-date information on optical fiber networks.

With FiberLocator, businesses have detailed maps and recommendations as well as informative articles and diagrams on important aspects of dark fiber. Because NEF is carrier-neutral, the primary goal is to help businesses identify and develop the optimal fiber network.

About FindADataCenter.com
Migrating to an offsite data center can be critical decision for any enterprise. Several factors can affect the data center selection: location, amenities, security and connectivity, among other factors. FindADataCenter.com is the trusted resource for available data centers across the US, including details about individual data centers to help businesses determine which data center might be the best choice.

More importantly, FindADataCenter.com completes the data center picture by taking into account connectivity information. By using FindADataCenter.com, businesses can avoid costly mistakes in data center selection by researching connectivity before committing to a data center.

# # #