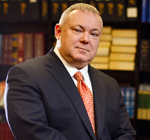 (PRWEB) May 10, 2012
Immigration law firm in New York Bretz & Coven, LLP welcomed client Agostino Accardo back to the United States from Italy today, announced Kerry Bretz, a senior partner at Bretz & Coven. A permanent resident of the United States, Accardo, 38, was placed into removal proceedings in 2007 by the Department of Homeland Security (DHS) after he pled guilty to the crime of extortionate extension of credit in the United States District Court, Eastern District of New York, Bretz said. Ultimately, the federal appellate court held that the Board of Immigration Appeals was wrong to support DHS's claim that Accardos 2007 conviction was absolutely a crime of violence, and therefore an aggravated felony, which is grounds for removal. The decisions citation is Accardo v. U.S. Attorney Gen., 634 F.3d 1333 (11th Cir. 2011).
"DHS maintained Mr. Accardo was convicted of an aggravated felony crime of violence. Despite a series of appeals with conflicting results filed by my firm, Mr. Accardo was deported to Italy in December 2009 after 17 long months in the custody of Immigration and Customs Enforcement," he said. "However, we continued to fight for Mr. Accardo's right to live in the United States."
Bretz & Coven pursued the appeal process. A Petition for Review before the United States Court of Appeals for the Eleventh Circuit was filed. The appeal was based on the fact that Accardo's original crime is not automatically an aggravated felony crime of violencewhich would make it grounds for removalbut rather a divisible crime having several interpretations, Bretz said.
In the decision in the Accardo v. U.S. Attorney General case, the presiding immigration judge, William A. Cassidy of the Board of Immigration Appeals, terminated the removal proceedings against Accardo. He upheld a previous ruling stating that because Mr. Accardo only admitted to threatening to harm a person's reputation and did not threaten to harm a person or property, he was not convicted of a crime of violence. The Boards decision of March 15, 2012, cleared the way for Agostino Accardos return to the United States today.
While this is a happy ending for Agostino Accardo, the cost in human terms for him was terrible. He unnecessarily lost 17 months of his life in ICE detention and another 29 months of his life outside the United States," Kerry said.
About Bretz & Coven, LLP

Bretz & Coven, LLP is a full-service immigration law firm in New York City that is AV(R) Preeminent(TM) Peer Review Rated by Martindale-Hubbell(R). The firm's attorneys serve immigrants who seek the privileges and benefits of U.S. visitation and lawful permanent residence. The firm also defends immigrants who are in removal and deportation proceedings.
"Individuals, families, and corporations turn to us when no one else will take the case," said Kerry William Bretz, a senior partner at Bretz & Coven. "The firm has a long and well documented history of taking on difficult challenges on behalf of immigrants in federal courts and changing, often for the better, the way immigration law is interpreted."
The firms staff speaks more than 20 languages and its attorneys are admitted to practice law in New York State, New Jersey, Connecticut, Florida, the federal district courts of those states, many U.S. Courts of Appeals throughout the country, and the U.S. Supreme Court.
For more information about Bretz & Coven, please go to http://www.bretzlaw.com or call 212.267.2555.