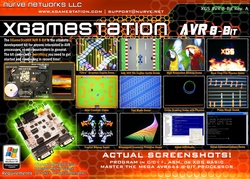 Austin, TX (PRWEB) February 25, 2009
(Silicon Gulch) Nurve Networks LLC develops and manufacturers embedded systems for education, industrial, and entertainment applications. Their latest products are the XGS AVR 8-Bit and XGS PIC 16-Bit development kits. These next generation development kits for the Atmel Mega AVR 8-Bit and Microchip PIC24 16-Bit processors respectively redefine what a development kit can and should be.
Engineers, scientists, hobbyists, and students looking to learn about AVR or PIC microcontrollers for years have had to use primitive, boring, development kits with blinking lights and poor documentation. The new XGS AVR and PIC systems are not only the most complete and low cost development kits for the Mega AVR 8-Bit and PIC24 16-Bit microcontrollers on the market, but each kit comes with a huge array of features including; NTSC/PAL Video, VGA, Serial Ports, Micro SD card, PS/2 Port, Game Ports, Expansion Ports, Duel 3.3/5V Power Supplies and more.
However, the real value of the kits is the learning and teaching experience, both kits include a 325+ printed book that explores the kits and takes the user from mystery to mastery. Also, included are ultra advanced APIs for graphics, sound, input, serial, and general interfacing. This way users can program the systems right out of the box with pre-developed APIs that are well documented with numerous examples, labs, and exercises. A complete learning experience.
If that wasn't enough, Nurve has developed a high performance "XGS BASIC" language for each unit. So users can program in C/C++, ASM, and BASIC. Arduino users will be specially happy with the BASIC since it is even simpler than the Arduino programming interface and GUI. All users need is a text editor on the PC, no tool installation at all for the BASIC.
Users are already raving about the systems:

"…As expected the kits are totally complete with everything ready to go. I'm amazed at the size of these boards, and what they are capable of doing…" – XGS AVR 8-Bit and PIC 16-Bit customer.
Nurve CEO and Chief Scientist Andre' LaMothe says, "…We designed these kits to put the fun back into learning and development. They are everything we wanted in a kit and more, a complete package for both AVR and PIC enthusiasts, and we hope that die hard AVR or PIC users try the other processors out as well and experiment with both. The technology we have developed and demos we have created show that these processors are capable of much more than anyone believed…"
Click these links to find out more about each system respectively:

XGS AVR 8-Bit

XGS PIC 16-Bit
Or visit us at XGameStation Main Site.
###







Related Arduino Atmel Press Releases