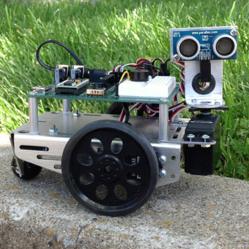 Rocklin, CA (PRWEB) June 06, 2012
Parallax Inc., a leading robotics and microcrontroller manufacturer, has launched a new educational portal ( learn.parallax.com) that provides an easy entry-point into electronics for middle- and high-school teachers and their students, colleges, universities, vocational schools, continuing education, scout troops and robotics clubs.
The new learn.parallax.com website provides free getting started guides and tutorials covering the most popular topics and devices. Educators can take advantage of the fact that the tutorials are easily adaptable as course material for many subjects, including computer science, electronics, physics, mechatronics, introduction to technology, robotics, industrial control, and embedded systems design.
Parallax President Ken Gracey notes Weve always recognized the importance of education with initiatives such as our Stamps in Class program. Now, with learn.parallax.com were creating a website for teachers, students and anyone who want to learn about microelectronics. For the educator crafting a science class curriculum, or a student working on a class project, well provide the information and resources they need to get up and running fast.
A Kickstarts section includes simple code examples that work with the retail line of Parallax sensors and accessories available online directly from Parallax or at RadioShack, Frys Electronics and Micro Centers nation-wide retail locations. More than a dozen Kickstarts cover the spectrum from Altimeter to XBee Wireless, all with working code and connection diagrams for select Propeller, Basic Stamp 2 and Arduino single-board computers.
Mathematics Professor Cindy Clements of Trinidad State Junior College is taking full advantage of the support that Parallax offers educators. We exclusively use Parallax's education program and the students love it! The books for the Basic Stamp guide students through examples that teach them how to program and the basic principles of electronics in a fun and engaging way. The students really get attached to their Boe-Bots and thoroughly enjoy the learning process that Parallax has set up for them. We could not have experienced the degree of success that we have achieved without Parallax's education program.
Robots have proven the most popular and compelling platform for education. They motivate and capture the imagination while giving students the opportunity to learn and experiment with a wide variety of real-world sensors, motors and actuators. Visitors to learn.parallax.com will find a wide variety of robot tutorials and projects using both the Propeller Boe-Bot and the new Board of Education Shield for Arduino.
Teachers can check out the events calendar and register for an Educators Course, beginner friendly workshops that are free and teacher-only. Since 1999 these workshops have helped thousands of teachers take the first step towards bringing science and technology into their own curriculum and classroom. Educators Courses are offered periodically and have been held all across the USA and in more than a dozen countries internationally. The next scheduled offerings are at Parallax headquarters in June, a two day BASIC Stamp Educators Course (6/20-21) and a Propeller Educators Course (6/22/12). The complete Educators Course schedule can be found at http://www.Parallax.com/events.
Parallax.com also hosts a forum where teachers can share ideas and experiences with peers in the academic community. Forum members are able to collaborate on projects and learn from the successful experiences of others.
About Parallax:
Parallax Inc. designs and manufactures microcontroller development tools and small single-board computers as well as a vast array of products including project boards, robotics kits, educational tools, and sensors. Parallax is dedicated to providing the electronics industry with products that are technically innovative, unique, and economical while staying committed to thoughtful, creative design and quality workmanship. Parallax Inc. is a privately held company located in Rocklin, California.