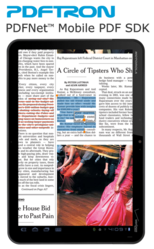 Vancouver, British Columbia (PRWEB) September 26, 2011
PDFTron Systems Incorporated, a global provider of industry-leading, high-performance electronic document technology, today unveiled the availability of PDFTrons Mobile PDF SDK for Android and iOS.
PDFTrons PDFNet Mobile PDF SDK is a PDF software development toolkit for viewing, annotation, creation, and manipulation of PDF documents on mobile and embedded devices without any third-party software dependencies. With this release, PDFTron expands its Mobile PDF Software Development Kit (SDK) with support for the Android and Apple iOS platforms.
The new SDKs bring all the power of the proven PDFNet PDF library, a solid and advanced PDF engine tested by millions of users, to iOS and Android platform developers. Using the PDFNet Mobile PDF SDK, developers can take advantage of a high-performance PDF engine optimized to deliver high-quality and exceptionally fast document rendering and processing across a wide range of limited-resource embedded devices such as iPhone, iPad and Android smartphones and tablets.
The PDFNet Mobile SDK was engineered using an advanced, custom tiling viewer that leaves a small memory footprint and enables high-zooming for up to 500x, without sacrificing rendering speed or performance.
In addition to top-speed rendering, developers have access to built-in user controls for advanced features, such as full text selection and search, and support for links, bookmarks and various annotation creation and manipulation capabilities for PDF markup. Interactive support for text highlighting, underline, strikeout, squiggly, line, rectangle, ellipse, arrow, sticky note, and free-hand tool mode, are just some of the PDF annotation features included. Highly customizable widgets, with access to source code, allow further fine grained control and customization of every aspect of the user experience.
The SDK delivers all this and more while providing exceptional memory management to ensure that viewing of all types of PDF files, including very large files, is fast and problem-free. The technology is also fully compatible and compliant with all versions of the PDF Standard, including the latest PDF specification (ISO 32000).
Were excited to bring complete PDF processing support for Android and iOS to the market. Many of our existing PDFNet customers have been looking to extend their applications to mobile devices, and with the explosion in interest for PDF support in various mobile solutions, weve been urged by many to release PDF SDKs for Android and iOS, said Catherine Andersz, Director of Business Development, PDFTron. Weve worked closely with a large number of companies throughout the beta program and really listened to customer needs. The result is an advanced mobile SDK, with all the power and functionality of the popular PDFNet PDF library, but with a focus on the features most important to mobile applications such as efficiency and memory-management on resource-limited embedded devices, a fast viewer, ease of use and customization options.
PDFNet Mobile PDF SDK is available for licensing directly from PDFTron, comes with all the resources required for effective implementation (including sample projects, comprehensive documentation, and source code availability), and is backed by PDFTrons unmatched technical support to enable users to significantly reduce their time-to-market.
For more product information, sample code, and fully-featured free demo versions, please visit: http://www.pdftron.com/pdfnet/mobile.
About PDFTron Systems Inc.
PDFTron Systems Inc. (http://www.pdftron.com) is a global provider of industry-leading, high-performance document processing and conversion technology related to PDF, XPS, SVG and other graphic file formats. Our flagship product, PDFNet SDK, provides organizations a cost-effective, reliable and easy way to seamlessly integrate all types of PDF capabilities and document conversion functionality with complex enterprise-wide document management and publishing workflows, interactive client applications as well as high-traffic server-based applications. Forward-thinking, customer-centric, and quality-obsessed are some of the traits that have turned PDFTron into the primary resource for major technology, engineering, and healthcare companies as well as financial, educational and government institutions world-wide.