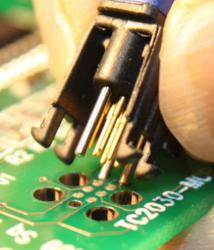 CORWEN, UK (PRWEB UK) 31 January 2012
The Debug Store is proud to announce its appointment as the first UK/European distributor of the TAG Connect System.
We have been working with European developers to demonstrate the convenience of using TAG Connect to connect their debugger to their target board using JTAG and other serial debug ports and the interest has been very strong.
The biggest cost savings are achieved when programming of on-board Flash memory using an In-Circuit Programming port such as JTAG or ICSP. The requirement for a connector such as RJ45 or header pins is removed as the TAG Connect connector mates directly with pads on the target board via sprung test pins.
Locating pegs in the patented connector protrude into the board to ensure precise alignment.
Two types of TAG Connect connector are available (Locking and Non-Locking). The Locking connector is used mainly when debugging, as the connector is attached to the target board.
The Non-Locking connector is held in place by fingers or an automated test jig, making it ideal for filling up the target memory with data in the same way that you would fill your car with fuel.
Cables are currently available a 6 or 10 way connector, allowing them to be used with most JTAG and ICSP connectors. A full range of reasonably priced cables is kept in UK Stock with free shipping and optional next working day delivery.
TAG Connect

TAG Connect is a new innovative startup in 2010, based in the United States who has developed the new technology to make connection to the target board simple and cost effective. They have partnerships with a number of major manufacturers including Microchip.
The Debug Store

The Debug Store is TAG-Connect's distributor in the UK and Europe. It specialises in supplying embedded systems development tools and electronic test equipment to electronic engineers in the UK and thoughout Europe and is known as "The Electronic Engineers' Tool Store". The company was founded and is run by John Legg, an experienced embedded hardware and software engineer whose philosophy has always been to introduce innovative solutions to the embedded systems developer and to back them with both pre and post sales advice and support.
###





Find More Microcontroller Press Releases