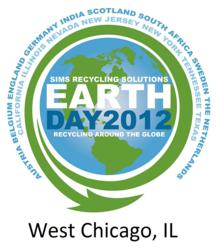 West Chicago, IL (PRWEB) April 11, 2012
Sims Recycling Solutions, the global leader in electronics reuse and recycling, will host a free electronics recycling event to encourage the community to recycle their electronics. All items brought for recycling will be safely and responsibly recycled by Sims Recycling Solutions. The event will be held on April 21, 2012, at the Sims Recycling Solutions facility located at 1750 Harvester Road, West Chicago, IL 60185 from 8:00 a.m. to 2:00 p.m. This site will be one of five involved in an attempt to break an official Guinness World Record for the most consumer electronics collected within 24 hours – multiple locations.
For 13 years Sims Recycling Solutions West Chicago facility has hosted an Earth Day electronics collection event, but this years event is special for two reasons: Through the simple act of dropping off broken or old devices, the residents of West Chicago can do their part to protect and preserve the environment and they can participate in an exciting attempt to break a Guinness World Record, stated Steve Skurnac, President, Sims Recycling Solutions, Americas. While the goal of this one-day event is to collect a record-breaking number of electronic devices, the broader objective of this campaign is to raise awareness about the ongoing importance of properly recycling e-waste. By recycling end-of-life electronics, we all have the ability to contribute to a sustainable future and the health of the planet.
This e-waste collection event will be set up as a drive-through and drop-off event. Staff will be on hand to conveniently and quickly collect items from community members vehicles. Please visit us.simrecycling.com/EarthDay2012 for more information.
Sims Recycling Solutions can accept cable and satellite receivers, cables, CD drives, cell phones, PDAs, circuit boards, computers (CPUs, desktops, laptops and tablets), digital converter boxes, digital recorders, DVD players, fax machines, hard drives, keyboards, mice, monitors (all types), MP3 players, printers, scanners, servers, televisions, VCRs, video game consoles and zip drives.
Sims cannot accept large home appliances (dehumidifiers, air conditioners, stoves, refrigerators, freezers, etc.), large stereo speakers, loose batteries (not contained in equipment), hazardous waste, mercury-containing devices (thermostats, thermometers, etc.), fluorescent bulbs, or liquids and gases.
For more information on Sims Recycling Solutions and electronics reuse and recycling, visit us.simsrecycling.com, Facebook or Twitter.
Sims Recycling Solutions

Sims Recycling Solutions (us.simsrecycling.com) is the global leader in electronics reuse and recycling, offering customers in every business sector comprehensive recycling services out of our 50 owned and operated sites across the globe.
Sims Recycling Solutions owned by Sims Metal Management, the worlds largest publicly listed metal and electronics recycler has the global reach, expertise and infrastructure necessary to guarantee our customers that their data is secure, their electronic equipment is processed in an environmentally responsible manner, their reputation is protected and their compliance risks are eliminated.
In North America, Sims Recycling Solutions operates 14 sites in Arizona, California, Florida, Illinois, Nevada, New Jersey, Ontario, South Carolina, Tennessee and Texas.